TEF2016 Forum: Africa's richest woman clashes with ex-Nigerian President over oil deal
Olusegun Obasanjo took time to out to explain what really happened, says he made her a millionaire.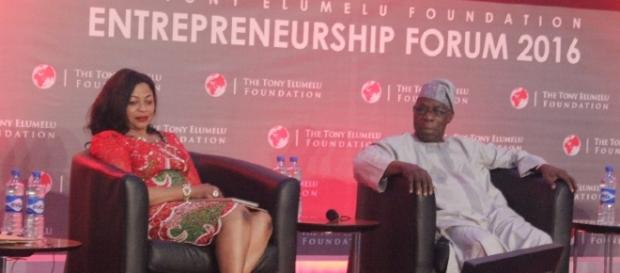 Folorunsho Alakija, Africa's richest woman has clashed with Nigerian ex-President Olusegun Obasanjo, publicly accusing his government of unduly slashing as much as 60 percent of her company's hard earned oil reserve  several years ago. Alakija whose net worth is estimated at 1.73 billion US dollars according to Forbes 2016 ranking, took on Obasanjo while delivering a talk to some 1000 African entrepreneurs and guests brought together by the Tony Elumelu Foundation in the Nigerian Law School auditorium in Victoria Island, Lagos, October 30. (She unseated Oprah Winfrey as richest women of black descent in 2014.) 
The Vice Chair of Famfa Oil told them that to succeed, at times one has to fight friends, enemies, competitors and even government.
She said after some 17 years of exploration "we finally struck oil. The government came out of nowhere and unlawfully ceased 60 percent of the oil reserve." Former President Abasanjo however took time to respond to Alakija's accusations. He explained the legal and administrative procedures which were involved in the oil business, during his reign as Nigerian Head of State.
He said Alakija's family was given a license for oil exploration, after which they had to apply for another license which would enable them begin drilling. It was obligatory for oil companies to leave that percentage to government, said he. Abasanjo, regretted the family seemed not had understood the process and headed to court. Alakija kept shaking her head and twisting her face in disapproval as the former Nigerian leader talked on.
Obasanjo insists it was legal
"You can continue twisting your face, but what I am telling is the truth", Abasanjo noted; provoking outbursts of laughter across the auditorium. "My goal, as president, was to create 50 millionaires.But I failed. I created only 25 including you." Abasanjo said. Both speakers encouraged the beneficiaries of  the Tony Elumelu Foundation"s 100 million dollar program to be courageous, patient and hardworking entrepreneurs.
Other speakers at the forum included Ernest Bai Koroma, President of Sierra Leone, Lionel Zinsou, Former Prime Minister of Benin Republic, Lai Mohammed,  Nigerian Minister of Information, Tourism and Culture.Besides the Founding Chairman of the Toney Elumelu Foundation, TEF, Tony O Elumelu, other speakers were also drawn from the private sector most of which are partners of the foundation.
They included Kennedy Uzoka, Group CEO of United Bank for Africa (UBA), Segun Awolowo, CEO of the Nigerian Export Promotion Council, Clem Ugorji, Public Affairs & Communications Director, Coca-Cola West Africa, Emeke Iweriebor, Regional CEO of UBA Africa (Francophone) Matthew Pearson, Head of Africa Equity Sales at ICBC Standard BankSam Nwanze, Chief Investment Officer at Heirs Holdings. They shared their experiences to inspire Africa's future millionaires.
Click to read more
and watch the video
or