Oscar Pistorius granted request to transfer to prison with disability upgrades
Rehabilitation programs and upgraded facilities for prisoners with disabilities probably motivated transfer request by Oscar Pistorius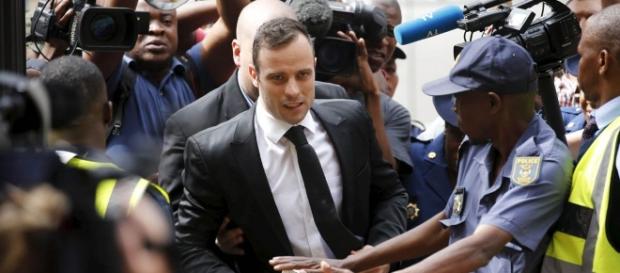 #Oscar Pistorius transferred to the Atteridgeville Correctional Centre near Pretoria earlier this month reported Times Live. The center has recently been upgraded to accommodate prisoners who suffer from physical disabilities and it is also known for the #rehabilitation programs that it provides to prisoners serving shorter-term sentences.
Pistorius requested the transfer
According to Singabakho Nxumalo, a spokesperson for the prison services, the reasons why Oscar requested the transfer are not for public dissemination. He said to Times Live, "That is between Pistorius and prison officials." It would seem though that the recent addition of baths for the disabled and the fact that the center is flat, making it easier for him to move around was probably an important part of his decision to apply for the transfer.
The prison service was very clear on the point that Pistorius had not been the motivation for the upgrade of the prison facilities for the disabled. Since his sentencing, Oscar was held at the Kgosi Mampuru II, remand detention center. That facility is mainly for prisoners awaiting trial or who need to be in hospital full time. It was not ideal for Pistorius as there are no rehab programs at the remand center. The move will allow Pistorius to "engage in rehabilitation programs tailored to offenders needs."
Applications considered on a 'case by case' basis
The Prison service considers applications for transfer to the rehabilitation center on a "case by case" basis. The Pistorius application was received, given due consideration and implemented. Pistorius is serving a six-year sentence for murder after a very controversial court case.
The original ruling that he was guilty of the #Crime of culpable homicide (similar to the USA's manslaughter) was overturned by the Supreme Court and a later trial found him guilty of murder by Dolus Eventualis. In other words, under South Africa's rather antiquated laws, he was not jailed for the murder of Reeva per se. By discharging his firearm, it should be presumed by that person that their actions may result in the death of someone - anyone - not Reeva specifically.
Oscar has expressed a desire to continue to work with disabled children once his sentence has been served and it has been said that he is studying towards a 'Business with Law' degree via a London university during his incarceration.