Japan - Fukushima earthquake an aftershock from devastating 2011 Japan quake
Japan Meteorological Agency warn another big quake might be on the way following Tuesday's 6.9 mag earthquake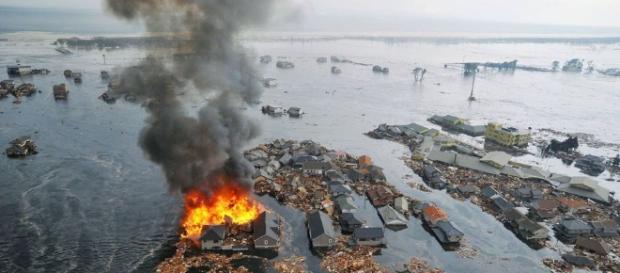 The Japanese Meteorological Agency has warned that the fukushima earthquake of 6.9 magnitude Tuesday, was an after-shock related to the devastating 2011 Japan quake that rocked the country with an 8.9 magnitude. The 8.9 earthquake was followed by terribly destructive tsunamis.
Warnings that another large quake might occur
Tokyo AP News and The Big Story have reported that "The agency warned that in the next few days, another large quake could hit. The 6.9 quake might just be the lead up to an even bigger one and people are still reminded to be aware of the potential danger of more devastating quakes. The 6.9 earthquake from Tuesday was the biggest quake since the 2011 one and although it initiated tsunami warnings of up to three meters, the tsunamis were smaller than that and did not cause devastating damage.
The largest wave recorded was 1.4 meters (4.6 feet) at Sendai Bay. Sendai was the epicenter of the March 2011 quake. The warnings have since been stood down, but there might still be danger lurking in the mantle of the earth.
The 2011 quake was devastating
The thought of another potential big quake such as the 2011 8.9 quake is alarming and residents in Japan have mentioned how Tuesday's quake brought back the terrible memories of that day.
You can view some of the devastation of 2011 by watching the video by ANC News below which shows the devastation caused by a tsunami that reached 23 feet high in places.
Aftershocks strike near original earthquakes
Aftershocks can just as destructive as the original earthquake, although of lesser intensity. Following the 2015 Nepal Quake, Live Science quoted scientists as saying that they are working hard on finding ways to forecast "where the worst aftershocks will hit" They stressed that new studies reveal that the biggest "aftershocks tend to strike at the edge of the original earthquake."
In 2011, the biggest aftershock came just hours after the main earthquake and measured 7.9 magnitude.
Aftershocks are typically less severe than the original quake, but the Tuesday earthquake was not a lot less than the original aftershock. Five years down the line, the incredible power of an earthquake that actually "shifted the earth's axis by about 25cm still threatens the people of Japan.
Click to read more
and watch the video
or