Gov't offering Anglophone lawyers 200,000 FCFA bribe to defect strike action
Government officials have however maintained sealed lips as regards the strike and bribery allegations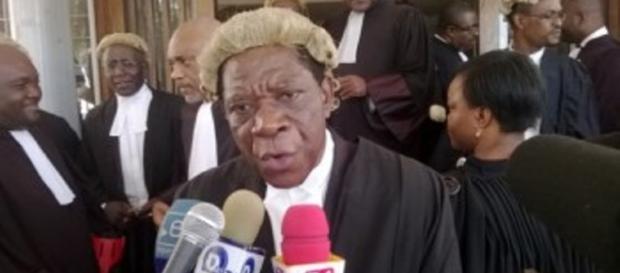 It has emerged that the Cameroon government has resorted to bribing lawyers 200,000 FCFA (circa  670 USD) for them to abandon an on-going strike action and return to courtrooms in Anglophone regions of the country which have been deserted for about three weeks. The information was revealed in a release signed November 4, by leaders of the strike.
The lawyers of the Common Law sub-system decided to down tools earlier on October 11, 2016, in protest of government neglect of their demands. They, later on, extended the strike indefinitely on grounds that government remained indifferent. In the November 4 release, they note that the government is rather trying to divide the lawyers and weaken their protest, instead of addressing the issues they raised.
The release is signed by Philip Awutah Atubah, President of the Meme Lawyers' Association, MELA, Harmony Bobga-Mbuton, President of the North West Lawyers' Association, NOWELA, Emilien Ngangjoh Sopseh, President of the Manyu awyers' Association, MALA and Asoh Epey, who signed on behalf of Felix Nkongho Agbor, President of the Fako Lawyers' Association, FAKLA. They state in the release: "…we have been served with hard proofs that the government that has all this while, been pretending that our strike action has zero impact and in that delusion been dreaming that Common Law Lawyers will soon run hungry and call off the strike, is desperately wooing some inconsequential Common Law lawyers and bribing them with 200,000 FCFA each in exchange of resumption of court activities and shamelessly so"
New Bar association created
The lawyers, whose associations hitherto existed under the banner of the Cameroon Bar Association, have decided to create a separate association.
Named the Cameroon Common Law Bar Association, its constitution and other related rules will be published in a fortnight, as announced in the statement. The New association's first general assembly is also expected to be held in a fortnight, while the strike continues.
For recall, the  striking lawyers had filed a memo to government in May 2015 with several demands outlined. The memo contained the "Bamenda Resolutions" which were drawn on same year after a stormy meeting, prompted by what they termed government scheme to annihilate the Common Law sub-system. They requested among other things in the resolutions, that President Biya should facilitate Cameroon's return to the federal system as obtained before 1972; protect the Common Law Sub-System; respect the bi-jural system of Cameroon's judiciary and that he should also protect the Anglo-Saxon educational system in the South West and North West regions among others.
Click to read more
and watch the video
or