Germany plans to deport 500.000 refugees to Egypt next year
Rate this title
The European country has taken a U-Turn when it comes to immigration policy, and is planning to deal with the refugee crisis harshly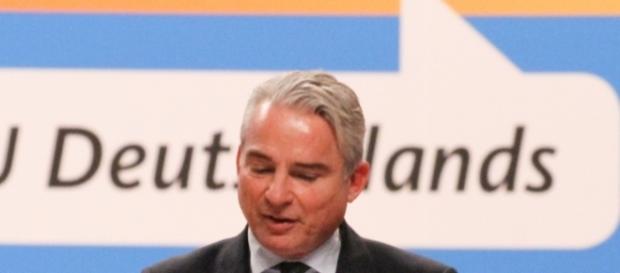 Germany's top politicians are taking a surprisingly different course of action when it comes to the refugee crisis. They now plan to deport about half a million refugees in a repatriation center that is going to be built in Egypt, the Daily Express reports.
Many of those seeking asylum aren't true refugees, top politician says
Thomas Strobl, who is the interior minister of Baden-Wuerttemberg, a wealthy Bundesland (state) in the south of Germany, plans draconic measures against those refugees that refuse to properly integrate into German society, as well as those that fake their refugee status. In an article that he wrote in a German newspaper that was published on Sunday, Strobl has said that he plans to dramatically increase the expulsion and deportation of asylum seekers that have been rejected by the country.
The current system does not make booting out immigrants a smooth process. Instead, it is slow and overly complicated. Many immigrants and asylum seekers have delayed their deportation by resorting to lawsuits that cost taxpayer money. Certain human rights groups would also frequently choose to assist them in their endeavor, further complicating matters.
Mr. Strobl suggests a possible solution to this. In the article he has written, Strobl argues that there are far too many foreigners in Germany that should not be there in the first place. At a conference of Interior Ministers that will take place on Tuesday, Strobl wants to introduce a paper that will ease the deportation process for rejected migrants. A week after this, he plans on transforming his initiative into a policy that will be adopted at the annual congress of the CDU conservative party.
Strobl has harshly criticized asylum seekers that conceal their identity. He was even more critical of those that return to their homeland to visit their families during holidays, calling their practice "asylum shopping," deeming it intolerable, and asking for the immediate loss of any rights to residency they might have. While many refugees have cited their poor health as a reason why they can't be deported to their country of origin, Strobl is not sympathetic to their pleas, saying they had no problems getting to Germany despite their alleged sickness. The plan also states that if refugees refuse to leave the country after their asylum rights have been revoked, they could end up in prison.
In order for deportations to go more smoothly, Strobl has proposed that Germany should, in the near future, set up a repatriation center in Egypt. This center will serve as a temporary refuge for shipwrecked immigrants, as well as asylum seekers that have been rejected from Germany. Mr. Strobl concluded by saying he is very confident that Egypt will agree with the project and assist Germany with building the repatriation center.
'No more nice Germany' could become a new motto for German politicians
Last year, when Angela Merkel had offered support for the refugees that were fleeing war-torn Syria, nobody expected the vast influx of immigration that this seemingly simple and innocent invitation brought. The situation soon became a social nightmare.
But now, as the elections are approaching, and the threat of a victory for the far-right parties seems a possibility, Merkel has backed down on her previous remarks, and is taking a more pragmatic approach to the problem, one that might assure her greater chances in the electoral campaign, as she is hoping to win a fourth term in office.
Click to read more
and watch the video
or