General Raheel Sharif chief of staff Pakistan army will retire on 29 November
Rate this title
An unfinished agenda and spiraling violence by Wahhabi Sunni outfits marks the retirement of the COAS of the Pak army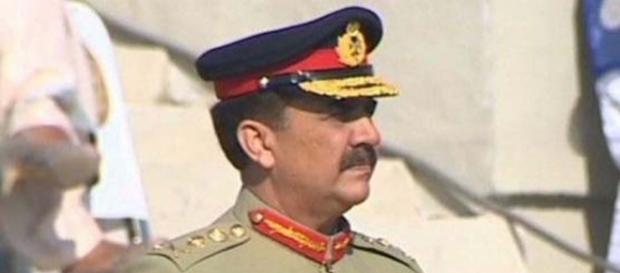 General Raheel Sharif the chief of the Pakistan army will retire on time on 29 November on expiry of his 3-year term. Pakistan is a theocratic state with Islam as the state religion. It maintains the 7th largest army in the world which eats almost 45% of its budget. General Raheel headed this force with the main object of fighting India. General Raheel will be the first chief of the Pakistan army to retire on completion of tenure in almost three decades. This news is reported by PTV in a broadcast.
Pakistan army chief
General Sharif was hawkish against India but it is a tribute to him that he has accepted retirement on the due date.The earlier two chiefs of the Pak army, General Kayani and General Mushraff extended their tenures.
General Kayani got an extension and Mushraff staged a coup and ousted the PM Nawaz Shariff in 1998.
The Pakistan army chief has a significant role to play in Pakistan politics and is in the power center that dictates policy. Until the last, it was not sure that he would retire especially after General Mushraff called for him to be given an extension. The General won't be happy to retire with an unfinished agenda as the insurrection by Wahabbi Sunni outfits is alive and threatening the existence of Pakistan and India is reacting very strongly to Pak violations on the LOC in Kashmir.
Raheel's term
It appears the general has decided to retire as the political atmosphere is not what it was a decade ago. Any attempt to hang on to power by him would have proved unproductive with the USA closely monitoring the situation and standing behind Nawaz the elected leader.
General Raheel Sharif has started his round of farewell visits and the new army chief will only be announced when Sharif retires. The prerogative of appointing the next chief rests with the prime minister, Nawaz Sharif. A list of three names is with the PM with the recommendation of the outgoing chief.
Future
The tenure of Raheel was marked by an ascending graph of violence by the extremist Muslim Sunni groups who want a Caliphate with the Sharia in Pakistan. Thousands have been killed and despite much talk and bravado and launching an anti- terror attack under his leadership the insurgency is not crushed. Sharif has not been able to make any headway on Kashmir either despite launching infiltrators from the Pak side for terror attacks. He will thus retire with an unfinished agenda. It will be interesting to see who Nawaz will appoint the next army chief.
Click to read more
and watch the video
or