Four dead after party boat catches fire - owner says crew did everything right
End of year function went tragically wrong in South Africa - three drowned and one overcome from fire smoke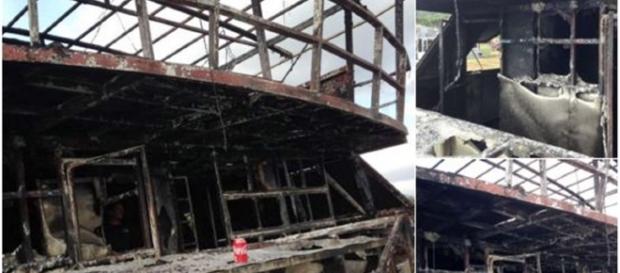 An end of year function went badly wrong at Hartebeest Port Dam near Johannesburg in South Africa this weekend. The pretty dam is a popular getaway for city residents from the Pretoria and Johannesburg area. Boaters World Adventures operates on and in the dam surrounds, offering people adventure, boat parties, cruises and even wedding functions. They have been operating for more than 20 years and the owner, Nico Wessels told the Sunday Times that he had never had any incidents like this one that saw four people dead.
Flames billowed out from near the kitchen area
There were several different companies on board for a year-end function, and these included some primary school teachers.
One teacher, who survived the tragedy said that it was very scary as flames billowed from around the kitchen area. According to her, the people panicked and some of them jumped into small boats without waiting for life jackets. Many private boats rushed to help people off the party boat and it seems that this was when three deaths occurred. There was one woman passenger in the toilets when the fire broke out. According to Wessels and to other passengers she was not burnt to death, but died from smoke inhalation.
People who drowned had climbed onto other small boats
Radio Jacaranda posted up photos of the big party boat which showed the extent of the fire damage. However, Nico Wessels said that a pump at the back of the boat caught fire. He was quick to point out that the people died because they got off the main boat that was burning and into small boats.
"Nobody drowned on our vessel. The people who drowned climbed off our vessel with life jackets onto a public boat and then too many people climbed on, it capsized and the people got stuck underneath the boat and that is how they drowned," he said to Sunday Times.
Woman died from smoke inhalation in toilet
The boat owner did not have much to say about the woman who died in the toilets, saying only that she did not burn to death - she died from smoke inhalation. Wessells appears to think his crew did everything right. They turned the boat into the wind, and water tanks on top of the boat melted and the fire was extinguished - well not completely, it would appear as he went on to say that his "crew was running around with fire extinguishers and making sure everybody is safe." He further said "there here was no problem when the incident happened." and blamed the passengers themselves for trying to get off the burning party boat.
Authorities praised private boat rescuers
According to eNCA News, authorities said that 'many lives were saved thanks to private boat owners who were first to arrive on scene.' North West Police will investigate the tragedy, but some people on social media feel that there was obviously very little in the way of emergency management on the boat that was carrying more than 200 passengers.
The main damage from the fire seems to be confined to the back of the boat. See video below.