Changing scenario as Israeli president visits India with Modi as Prime Minister
Rate this title
The Israeli president Reuven Rivlin is on a 6 day visit to India to further defense and economic ties.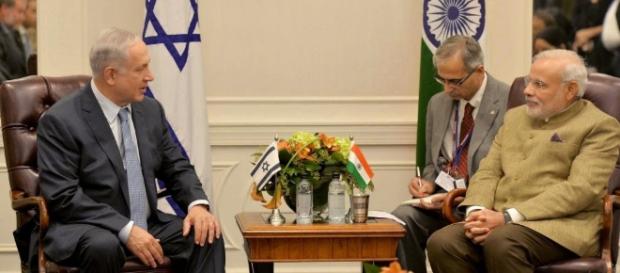 The Israeli president Reuven Rivlin has commenced a 6 day to visit India. He is accompanied by a large delegation of military and economic experts. Israel was created in 1948 by a UN mandate. It was carved out of Arab lands and that was its crime as the Arabs vowed not only to get back their lands but also to destroy Israel. They failed. India had voted for the state of Israel but subsequently developed cold feet and sided with the Arabs as it felt it was politically expedient to do so.
Turning back the clock
The clock has turned full circle and the Modi government has reversed the decades-old policy of looking at Israel through the Arab prism.
This is the first-ever visit by an Israeli president to India after 1997 and signals a realignment of forces. India and Israel are now friends and have active military cooperation. The rise of Islamic terror groups that threaten both India and Israel is fundamental to their friendship. Indian intelligence agency RAW has a close liaison with Mossad.
Israel president's visit
The Israeli president will be in India for 6 days. He has commenced his visit from Mumbai. He will also visit Delhi where Modi will host a banquet for him. Rivlin will proceed to Chandigarh in the Northern state of Punjab where he will inaugurate Agro Tech 2016 (an exhibition, along with the Indian president Pranab Mukherjee).
The Israeli president is accompanied by a large delegation and shows the importance Israel attaches to India.
The signing of a slew of agreements with India on defense and economic matters is on the cards. Generally, Indians have a fondness and sympathy for Israel and Modi is articulating these feelings by playing host.
Future
Israel itself is surrounded by a hostile neighbors, and is grateful for its friendship with India. The visit of the Israeli President is the precursor to the Indian Prime Minister Modi's visit to Israel next year. It will be the first visit by an Indian Prime Minister to Israel. This will be a significant event and would mark a sea change from earlier Indian policy to sideline Israel. All that has gone in the Arabian Sea as India and Israel strengthen their military and economic ties.
Click to read more
and watch the video
or