Uganda opposition leader Besigye arrested amid rumors President Yoweri Museveni steps down
Heavy military and police presence in Uganda as opposition protests anticipated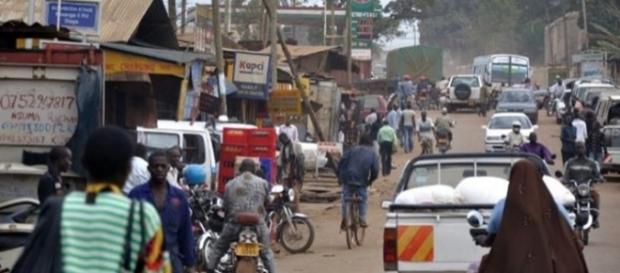 The Daily Monitor reported that Uganda's Opposition leader of the FDC, Mr. Besigye was arrested at the Entebbe International Airport earlier today. Erias Lukwago, the Mayor of Kampala City confirmed he had been arrested saying "We do not know where he has been taken but we are doing our best to trace him." Later, Mr Andrew Kaweesi a Police spokesperson said that Besigye had been arrested and conducted to his home, as authorities were concerned his supporters were going to cause chaos in the city. "We could not allow that. It's part of our duty to prevent crime," he said.
Threats of treason charges
There were reports that there is a heavy military and police presence on roads in the Entebbe area and in other populated towns such as Abayita Ababiri.
This followed FDC supporters distributing posters declaring that Besigye is "His excellence the people's president, or Besigye - president of Uganda." Police threatened to charge anyone carrying such posters with treason. They also said that former presidential candidate Besigye had not formally notified them of the time and date of his return to the country and therefore any processions or protests were illegal.
Kizza Besigye=due back in Uganda this morning. Police spox had warned ppl @ any welcome procession 'wil not be allowed to see light of day'

— Samira Sawlani (@samirasawlani) October 3, 2016
There has been protest from FDC members who believe that Museveni is ruling by force and as a dictator, when everyone knows the people did not vote for him in the February elections. The appointment of youth militia called "crime preventers" reached a staggering number of millions of members which the opposition regarded as widely used to intimidate voters.
Rumors Museveni stepped down unfounded
There emerged a rumour that President Yoweri Museveni  has stepped down, but it seems to be just rumor as according to Kingdom TV, he left on schedule for the Kololo airstrip to attend the Police Week celebrations earlier today.
Please clarify on this report. @UgandaMediaCent @SarahKagingo @lindahNabusayi @OfwonoOpondo #uganda #kampala pic.twitter.com/ma6rzUuYfh

— Julius Bintu (@JuliusBintu) October 3, 2016
Information is hard to confirm as many journalists have reportedly been turned away from the airport and from scenes where people are being stopped and searched at Police checkpoint roadblocks.  
Infamous Idi Amin
Uganda is bordered by Rwanda, South Sudan, the DRC (Congo,) Tanzania and Kenya. It is the 2nd most populous landlocked country. Uganda was a British Protectorate and became independent from Britain in October 1962. After the ousting of the first president – Milton Obote, in a 1971 coup, Uganda became notable under the eight-year rule of the infamous President Idi Amin who ruled the country ruthlessly, leaving over three hundred thousand people dead in mass killings to maintain his hold over the country.
Museveni rule
Museveni took power in 1986 after leading a bush war against the Government. During his war many hundreds of thousands of more Ugandans died. Besigye, who was Museveni's physician at one time has been contesting elections since 2006, and in 2011 declared that he and his supporters "downrightly snub" the outcome of the elections as they were rigged, and they would not recognise the unremitting rule of Museveni or any person he may appoint. In 2013 it was believed that Museveni succession plans include a hand over to power to his son, Muhoozi Kainerugaba.