South African broadcast chief in hot water
South African TV and radio boss ordered by ANC to hide the country's violence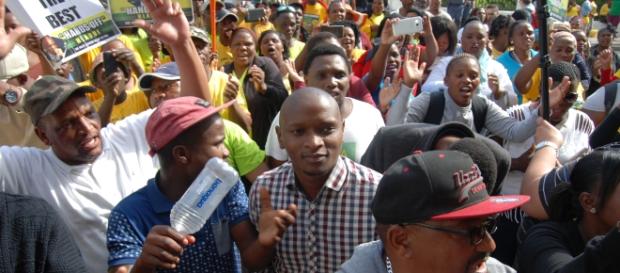 Hlaudi Motsoeneng the head of the South African broadcast corporation (SABC) is in the hot seat. The South African opposition party the Democratic Alliance (DA) has called for his removal after he was reinstated by the courts. Motsoeneng came into the spotlight last year when journalists both at radio and Television stations which fall under the ANC-led government control blew the whistle. They claimed he ordered that no bad news or violent protests should be broadcast. The ANC (African National Congress) is believed to have instructed him to keep the bright side up to attract tourists to the country. The Right2Know organisation also came out in their numbers to protest against Motsoeneng.
TV and radio chief not removed
Last year several organisations protested outside the steps of the SABC building in Sea Point - a plush Cape Town suburb for the affluent on the beachfront. In a recent development last week he was called to sit in parliament and was questioned. He was let off the hook. The Right2Know and other organisations were again protesting.
Ses!khona supporters
Motsoeneng was supported by the Ses!Khona movement a political wing of the ANC youth league. However, hundreds of Kentucky Fried chicken pieces, bread and about 100 of bottles of soft drinks were dished out to attract the supporters. When Blasting News questioned Motsoeneng about this he said: "I'm not aware of the food and cooldrinks. Maybe it was the organisers who bought it." He said at the steps of parliament when he came out, "The people are dying on the streets because of hunger and I'm here to transform society through the SABC.
You must pay your TV licence because it will ensure jobs for black people."
Andile Lile the chairperson of the Ses!Khona (a Xhosa word) said: "The ANC have betrayed the struggle. Our people are starving while they live in comfort. They the ANC have long lost their credibility."
TV news
SABC reports that the Democratic Alliance (DA) wants the SABC head  Hlaudi Motsoeneng to be removed from his position and that the court should declare his re-appointment as unlawful.
Click to read more
and watch the video
or