Singapore 'high alert' terror threat operation underway
Patrols, emergency response and security measures in Singapore put to the test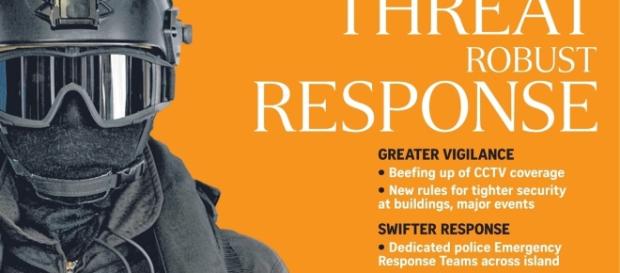 Singapore Straits Times have reported that police patrols, emergency response teams and other security measures are being put to the test in an "Islandwide" high terror alert operation. The terror operation gets underway on Monday and will continue into Tuesday 18th October, as joint army and police sweep for "suspicious" terror activities. The multi-agency operation will be real enough in that armed police and army operating a combined operation under Island Defence Task Force were issued with load bearing vests and SAR 21 assault rifles.
The operation is unique in that it includes deterrent anti terror measures, bomb situations and post terror follow-up operations.
Military will be patrolling and checking out all transport centres, shopping malls, border checkpoints and even residential areas.
Singapore terror operation involves over 3,000
The emergency response teams which were formed in June will join the Special Operations Command and army and Police combined with all the other units will make up one of the biggest terror simulations ever. More than three thousand people will be taking part, not to mention the thousands of everyday people who are likely to be going about their business as the operation unfolds. Although this is an exercise, there might, nevertheless, be some real life terror uncovered.
No stranger to terror
Singapore is no stranger to terror. The Uk Government advice to travellers states that Singapore is under general threat from Terrorism and they state on their website that "There is considered to be a heightened threat of terrorist attack globally against UK interests and British nationals, from groups or individuals motivated by the conflict in Iraq and Syria." The threat in Singapore could be very indiscriminate and people are requested to remain "vigilant at all times."
Recent ISIS terror threat in Singapore
In August, the media reported on a thwarted attempt to by ISIS to carry out an alleged rocket attack on "Singapore's waterfront from Indonesian-controlled Batam Island ten miles away." This was covered by the Uk Mirror who reported that the target was the Formula One Grand Prix, a street race circuit well known in racing circles.
Six people were arrested in connection with that incident.
A Ministry of home affairs statement after the thwarted ISIS attack said that "Terrorists will seek to come in through our checkpoints. They will also try to launch attacks from just outside." The exercise being carried out is intended to get the response teams, police and military into a well-oiled anti-terror threat, but with focus on preventing terror through vigilance, it is hoped to make it that little bit more difficult for terrorists to operate in the country.