Scores killed in Ethiopia stampede
2 million people were attending the annual Irrecha thanksgiving festival.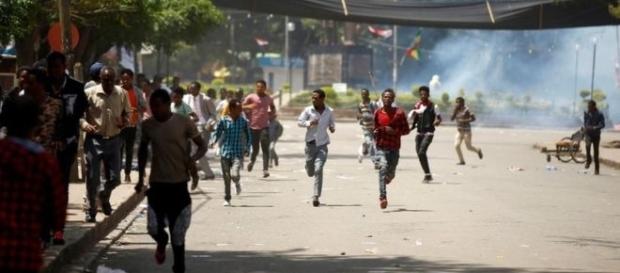 Scores of religious festival attendees died earlier on Sunday after they were crushed in a stampede in Bishoftu. The town is 40 kilometers on the southeast of the Ethiopian capital Addis Ababa. According to Aljazeera reports, over 2 million people were estimated to have attended the annual Irrecha thanksgiving festival. The police fired tear gas and rubber bullets to disperse the crowd after it turned into a political protest against the government.
Demand for political reforms
Ethiopia's Oromia region has in the recent past witnessed demonstrations which demand freedoms of expression and inclusion in the political runnings of the government.
For over 25 years the Ethiopian Peoples' Revolutionary Democratic Front has ruled one of East Africa's populous states. A Central Statistical Agency of Ethiopia (CSA) 2007 census reported Oromia's population to be the largest in the region at over 27 million and yet most of its people in the region cannot access socio-political development from the government. This past August, at least 148 people were killed after they protested to demand social and political reforms including an end to human rights abuses.
Land issues sparked protests
Back in 2014, the Ethiopian government laid out a development plan that would expand the capital into the extensive farmland of the Oromia region. This sparked small protests from the Oromo people who viewed the plan as a threat to seize their land. Mulatu Gemechu, an opposition leader with the Federalist Congress told The Associated Press that at least 52 people were dead as of Sunday evening, and he thought the figure would rise. 
The US spoke out recently against what it called the excessive use of force against protesters, it described the situation as "extremely serious." Thousands of Ethiopian social media users turned to Facebook and Twitter by putting their profile pictures in solid black in solidarity with the deaths of the protesters.
3 days of mourning were declared by the regional government nationwide.
Click to read more
and watch the video
or