Protesting traditional rulers use black magic on Chinese construction company
They want the Chinese company to appease the god's, and revise its construction techniques to curb inconveniences caused on rural communities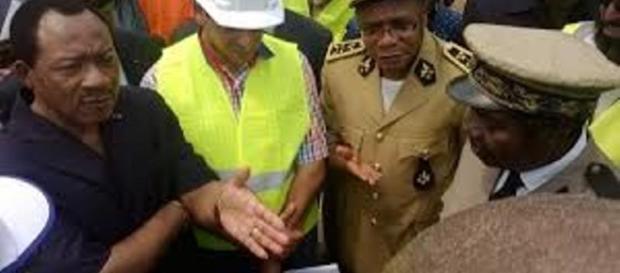 Negotiations are underway for traditional rulers in Cameroon's South West region to lift an injunction they placed on road construction works in the region. On September 27, 2016, the Chiefs tied what they called "magical herbs" around caterpillars and trucks the China Communication Construction Company is using to construct a road linking two towns of the region, Kumba and Mamfe.
The traditional rulers, acting under the banner of the Western Bakossi Chiefs' Conference say they had filed a complaint to administrative authorities and also informed officials of the Chinese construction company of their grievances. Chief Alphonse Akwelle, President of the group told reporters on the ground, that it is because they have not been having feedback from the officials that they decided to obstruct the construction.
According to the traditional rulers, the herbs cannot be removed until the gods are appeased. They said the appeasement will be carried out when the company repairs rural roads it destroyed in the process of constructing a highway to link Kumba and Mamfe. Chief Akwelle noted, "There is no way they (caterpillars and trucks) can work with those traditional herbs on them".
Grievances
The traditional rulers represent about 14 villages with an estimated population of 200,000. Chief Donatus Enone of Eboko Bajaw Village says something mystical will happen to anyone who enters any of the traditionally impounded vehicles. He warns that until negotiations are done, no one will be able to work on the construction site.
Chief Enone says, when the Chinese began work, they gave villagers the impression that they had paid for a vast piece of land where they would exploit soil and gravel.
He adds that the company dug an excavation in which three vehicles have already fallen. Two people are said to have lost their lives in areas on rural roads where construction vehicles had made the damage worse.
In a May 26, 2016 letter to the civil administrator in charge of the municipality, the chiefs said their main worry is the manner China Communication and Construction Company is carrying out excavations. They noted that the company had dug a deep hole a few meters from the road which they think might cause the road to collapse in a near future.
One way out
The traditional rulers who declared that they were notifying their ancestors about their grievances, refused to listen to an official of the China Communication and Construction Company who tried to convince them not to tie the herbs around the construction vehicles.
They gave an understanding that they want an official decision to be taken with all stakeholders involved. Though China currently tops direct foreign investment in Cameroon and other African countries, some Chinese companies are being criticized for noncompliance with laws and agreements.
Earlier in July this year, officials of Cameroon's Ministry of Mines revealed Chinese companies are exporting diamonds from Cameroon, concealed in gas bottles to evade tax. Till date, the company has not refuted the smuggling allegations. Locals have also accused Chinese companies of not respecting employment engagement as they come into the country with staff including masons, and laborers for unskilled labor. They are however closed to press and would not comment on these issues.
Click to read more
and watch the video
or