Palestinian terrorist kills two in Jerusalem attack including a policeman
Assailant was said to be heading to prison next week for attacking Israeli Police officer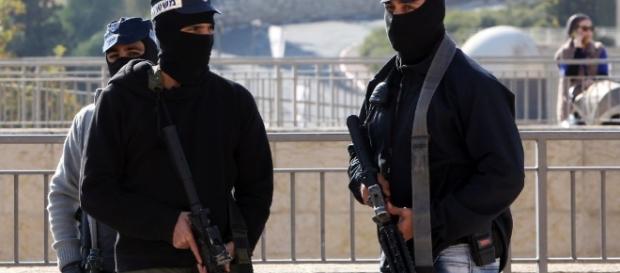 In what's being described as a terrorist attack by Israeli officials, a 39 year old Palestinian man went on a shooting spree in East Jerusalem on Sunday, killing two people and wounding four more. The assailant, a 39 year old Palestinian with ties to the pro Palestinian Islamist group Hamas, was to begin a four month prison sentence for attacking an Israeli police officer earlier in the year. He was said to have been shot dead by police on the scene.
Shots fired near Israel's nation police headquarters
The incident occurred during broad daylight only feet away from Israel's nation police headquarters. According to witnesses on the scene shots were fired from a small sedan while innocent bystanders were waiting at a popular tram stop.
The assailant then sped off while police gave chase inside an Arab East Jerusalem community. When the police caught up with him, there occurred an exchange of gunfire, resulting in the death of the attacker. 
A 60 year old woman and a male police officer dead
According to the Jerusalem Post, the police officer killed in the attack was Yosef Kirma, 29, who worked in the Jerusalem police district. He is survived by his wife, parents, and two brothers. The 60 year old woman also shot in the attack was rushed to Hadassah hospital where she later died of her wounds. Her name and the name of her attacker are not yet known do to an order issued by a Jerusalem court in the wake of the shooting. The four remaining victims received bullet wounds to their limbs.   
Violence in the Arab sector
The attacker initiated his shooting attack close to the city's light rail station near the Old City walls in Jerusalem's north end, before moving methodically in the Sheikh Jarrah on the east side, which is home to much of city's Arab population.
The area is known for its violent clashes of Hamas supporters and Israeli police. During the past twelve months, lone wolf Palestinians acting out of protest over ever expanding Israeli settlements, have managed to kill 35 Israelis along with two American tourists. More than 220 Palestinians have died in violent clashes in East Jerusalem, the occupied West Bank, and along the Gaza strip, during the same time period. According to Reuters, Israeli officials blame social media messaging in part for inciting the attacks.