ISIS turns to Chemical warfare as noose tightens around Mosul
Sulphur plumes from mines, carbon from oil fields make life hell for some.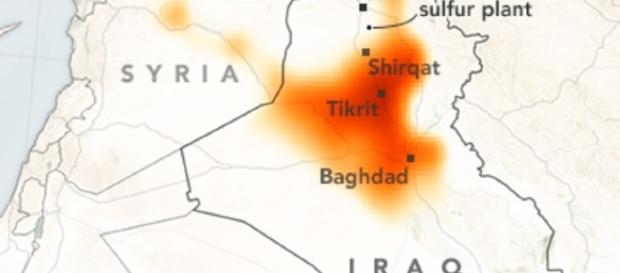 Add chemical warfare to the list ISIS terrorists are alleged to have committed in their fight to create a caliphate in the Middle East. NASA's Moderate Resolution Imaging Spectroradiometer (MODIS) reported the heat signature of a sulfur mine and processing facility fire at Al-Mishraq on Oct. 20. NASA satellites detected large sulfur dioxide (SO2) and hydrogen sulphide plumes spreading across northern and central Iraq the next day.
Dangerous winds
The toxin has risen to the upper atmosphere this week. Consequently scientists fear winds will move the poison throughout the region. The heaviest concentrations are in Iraq, but parts of Syria and Turkey are also contaminated.
People with lung diseases, such as asthma, chronic bronchitis, and emphysema will generally experience more serious health effects at lower SO2 levels.
ISIS also set the Qayyarah oil field ablaze sending more toxins airborne. Some of the oil fires started last summer. U.S. troops in the region are not at risk, according to Combined Joint Task Force Operation Inherent Resolve (CJTF-OIS). Some Americans are voluntarily wearing gas masks in the high-80 degree temperatures.
Military is ready
"The coalition is trained. We've trained the [Iraqis] and peshmerga; they've got equipment," said Maj. Gen. Gary Volesky, commander of CJTF-OIS, in a press release. "We're confident that as the enemy attempt to use a lot of means – not just chemicals – we're targeting the training with the Iraqis and with the coalition to make sure we're mitigating any risk of that threat."
Civilians are not so lucky.
Sulfur dioxide irritates the skin and mucous membranes of the eyes, nose, throat, and lungs. High concentrations of SO2 can cause inflammation and irritation of the respiratory system, particularly during heavy physical activity. The resulting symptoms may include pain when taking a deep breath, coughing, throat irritation, and breathing difficulties, according to the National Park Service. NPS cares because volcanos, like the ones in some national parks, are the greatest natural emitters of SO2.
"The health center in Qayyarah area received more than 100 persons suffering from suffocation due to the emission of poisonous gasses," last week Deputy Manager of Nineveh Health Directorate Layth Hababa said in a press release. "The casualties include pregnant women and children, but no deaths were recorded."