Iran-Backed Houthi rebels target U.S. warship with two missiles
The attack comes only a week after the Pentagon ordered U.S. warships to patrol the area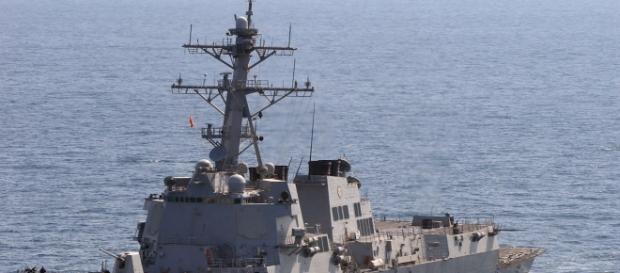 The U.S. Navy destroyer, the #USS Mason, was the target of a deliberate attack in the Red Sea off the coast of Yemen on Sunday by Iran-backed Houthi rebels operating in the area. Although neither missile was able to hit its intended target, the Pentagon along with navy officials have stated they have no doubt the rebels targeted the ship with the lethal ordinance.     
Intense escalation
News of the attack comes only a week after the Pentagon issued orders for U.S. ships to enter into the troubled area after a former U.S. Navy auxiliary ship, HSV-2 Swift, was struck by two Houthi rebel RPGs resulting in numerous casualties.
Pentagon spokesman Capt. Jeff Davis confirmed that the missiles were fired from Houthi-controlled territory in Yemen. He also reiterated that the U.S., and in particular the U.S. Navy, is committed to ensuring the safe and a free navigation of the world's seas, and that all necessary precautions will be taken to guarantee the safety of U.S. servicemen and women.    
On-board defensive measures initiated
As soon as the incoming missiles were captured on shipboard radar, USS Mason personnel immediately employed on-board defensive maneuvers including general quarters. The measure caused the missiles to veer from their intended path. In the end, they struck the water. However, officials have stated that even without having issued defensive maneuvers, it's possible the missile would have missed the target anyway.
International waters
Officials from the USS Mason, which is listed as an Arleigh Burke-class destroyer, stress that the unprovoked attack was initiated while the ship was sailing international waters. Whether or not the U.S. intends to retaliate against the Iran-back #Houthi rebels for the incident is unclear. However, an investigation is said to be underway and that more details should emerge over the course of the next few days. Protection of U.S. Navy members is paramount, the official went on to say. The U.S. supports the Saudi-led coalition in the Yemeni civil war which has been waging since early 2015, while the opposing Houthi rebels are supported in large part by Iran. The U.S. was forced to abandon their embassy in Yemen in February of 2015 amidst heavy fighting.     #Yemen Civil War