The poverty ridden country has already lost more 10,000 people due to the deadly disease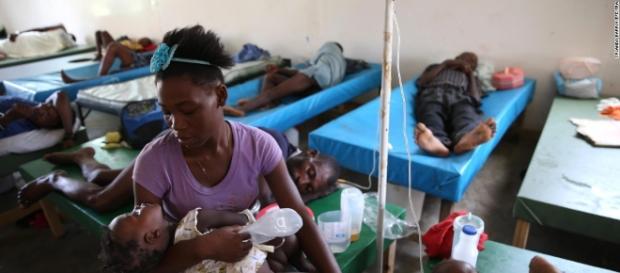 Haiti's Interim President Jocelerme Privert announced that thirteen people have died from cholera since Hurricane Matthew's devastating assault. A cholera outbreak followed the heartbreaking earthquake which struck the country in 2010. The United Nations say they are trying to help eradicate the disease. Cholera is spread through contaminated food and water, causing severe vomiting and diarrhea, which leads to a high degree of dehydration. If patients are not treated swiftly they could die within hours.
Sadly, after approximately $13 billion dollars poured into Haiti after the 2010 earthquake, living conditions barely improved for its people.
That is shameful. With having more than 27,000 suspected cases of the disease, it is estimated that one of three children are among this number, according to UNICEF. Diarrhea is a leading cause of death of children under the age of five in Haiti. Prior to the hurricane, one out of three people had access to decent toilets and less than three out of five had access to clean water.
Since Hurricane Matthew
A representative for Haiti's Health Ministry told CNN there has been an uptick of cholera cases. All those who are suspected of or are confirmed of having cholera are under observation and receiving medical treatment. However, there are reports of medical personnel being out of antibiotics and anesthetics and there are towns in near destruction with 90 percent of buildings destroyed by the hurricane.
This includes school and church building that once provided residents with shelter, leaving people to sleep outside on the streets.
Haiti's sorrows
So far, Haiti's official death due to the category 4 hurricane stands at 372 but the numbers do tend to fluctuate. Once identity has been established by the National Identification Office, then a person is counted as deceased. UN Emergency Relief Coordinator Stephen O'Brien said on Monday that currently, over 1.4 million residents are in need of urgent assistance. The widespread devastation also caused a severe crop lost as some towns still wait for help. Meanwhile, the people there struggle to survive, buying small bags of water they cannot afford. They struggle to hold to hope after seeing their homes, livelihood and lives of loved ones washed away by a storm.
Click to read more
and watch the video
or