Dreamworld: four passengers die, two children survive fatal theme park accident
Two children escaped from underneath a water raft after it flipped over, killing the remaining four passengers.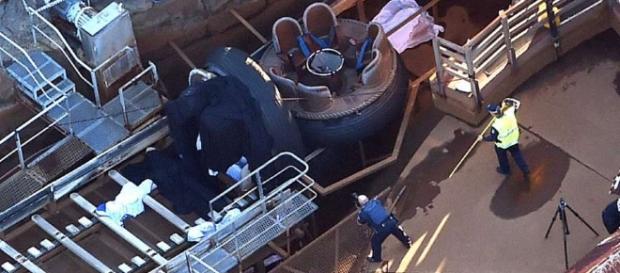 Two children managed to survive a deadly accident at Dreamworld, Australia's Largest Theme Park that left four adults dead on Tuesday, after a malfunction on the Thunder River Rapids Ride. The accident occurred around 2 p.m. on Tuesday. One of the six-person rafts on the water ride flipped over after slamming into another raft while moving on a conveyor belt, leaving two adults trapped under the raft, and two caught in the conveyor belt.
Queensland police said that the two children who survived the fatal accident had a "miracle" escape, managing to "extricate themselves" and escape from underneath the raft. Brian Codd, Assistant Commissioner for Southeast Region of Queensland Police, helped the boy and girl, 10 and 12, and said that they are traumatized but being taken care of by their families.
The victims
Three of the people who died on the ride were identified as siblings Kate Goodchild, 32, and Luke Dorsett, 35, along with Dorsett's partner, Roozi Araghi, 38. Cindy Low, 42, was the fourth person and was on the raft with her son, who managed to escape, and her partner and daughter were in a different raft. Goodchild had her daughter on the raft, and while both children were left without injuries, they have been offered counseling for emotional trauma.
There was a statement released after the tragedy, on behalf of Matthew, Low's partner, which read that the family was "devastated by the tragic loss." "The family are traumatized, and kindly request that their privacy be respected as they try to come to terms with this tragic loss," the statement said.
Thorough investigation
According to Tod Reid of Queensland Police, an active investigation of the ride and the incident is being conducted, and families of the victims are being contacted.
Alan Shedden, company secretary, said in a statement: "Dreamworld's focus and priority is with the families of those involved in this tragedy." Codd said that all reports of the ride, including ones that pertain to the ride having other problems beforehand, would be examined as a part of a thorough investigation.
"We owe it to the deceased and their families, we owe it to the community of Queensland, to get to the bottom of what caused this, to hold accountable any person that needs to be held accountable for this occurring, if that is the case, but most particularly ensuring that this can never happen again." Codd said. 
Craig Davidson, CEO of Ardent Leisure Theme Parks, announced after a news conference that the park would be closed until further notice. Davidson gave his condolences to the family after announcing the park closure, saying "We are deeply shocked and saddened by this and our hearts and our thoughts go to the families involved and to their loved ones."
There have been fatalities at theme parks worldwide in recent years, including the toddler eaten by an alligator at Walt Disney World in Florida, and the ten people plunged from a roller coaster at M&D's Theme Park in Scotland. 
On Wednesday, a statement from the theme park was released, saying that Dreamworld would reopen on Friday, and that all proceeds from park entry would go to the Australian Red Cross.
Attractions will be limited to smaller rides, animal attractions and the water park, as the theme park has called it a Memorial Day, and hopes that "this will be considered the start of the healing process for all."
Click to read more
and watch the video
or