Cape Town is the murder capital of Africa
More people die in Cape Town than in any war zone in Africa - the gangsters rule here.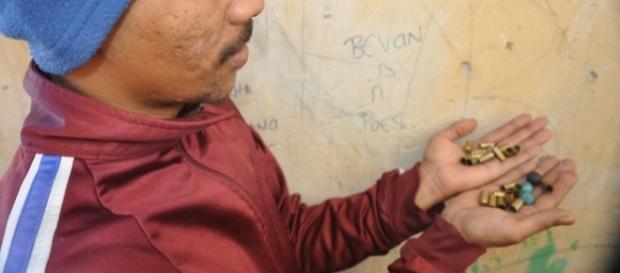 Cape Town in South Africa, the so-called beautiful mother city has a dark side; a shady side of murder, death, drugs, gangsters, prostitution and almost total mayhem. This is the side of the city the South African government and tourist agencies are hiding. People get murdered in Cape Town every second day, says Dan Plato Western Cape minister of community safety. He adds: "Only six percent of murderers in the townships are sentenced and convicted.The police is corrupt and the national government is corrupt. I tried to have the penal law made stricter but our president refused my request point-blank."
Mothers of murdered boys
Earlier this month more than 100 mothers ihad their sons murdered in one town alone.
The area is in a township of match-box homes and apartment buildings resembling prisons named Hanover Park where gangsters kill each other and kill anyone, perhaps for a cigarette or perhaps killing and shooting someone just for a joke or target practise.
In each and every township gangsters are in control: They control the drugs, the prostitution and they shoot dead at will because they pay the judges and the cops. I have personally witnessed how the cops and judges are being bribed. Cops are being fired regularly if uncovered.
Plato told me: "Most of the guns the gangsters have are policed issued but have the licence number filed off."
Blame the South African government
One mother cried profusely in front of parliament and said: "I blame this government and this police force for the death of my son..." The mother handed over a memorandum of demands at the gates of parliament.
But there is a march almost every month and memorandums turn out be big jokes for the government who do not act or seldom act on the list of demands.
Gangsters shoot each other dead over turf. They are usually known as the hitman. Only six perent of hitmen are being sentenced. The top cop Arno Lamoer, who was the South African police chief was recently fired for corruption and taking millions in bribes.
A teacher at high school told me: "The children at my school are gangsters. They wear the marks on their bodies; tattoos showing which gangs they belong to. They are like real gangsters. They sell rugs inside the school and they make the pretty girls into prostitutes. The youngsters are doomed as there is no work for them. They have no future - at least most of them don't have a future in this country. So what is the use they attend school? The school is the breeding ground for gangsters.
Click to read more
and watch the video
or