244 Cameroonian farmers sue agribusiness company over land disputes
On November 9, Cameroonian court begins trail of SGSOC, formerly a subsidiary of US-based Herakles Farm.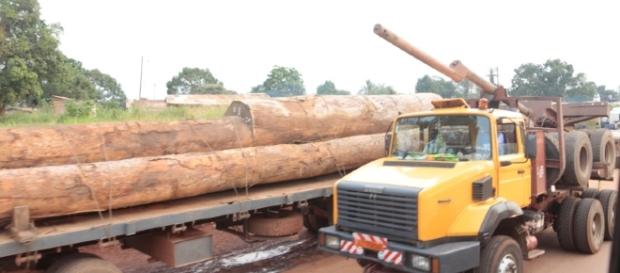 244 farmers in Cameroon's South West region have dragged SG Sustainable Oils Cameroon (SGSOC) to court on charges of trespass to land. In a release issued today by an international conservationist NGO, Green Peace, it is reported that SGSOC, formerly a subsidiary of an American company, Herakles Farms, is expected to be represented in the Bangem Magistrate Court on November 9. 
The agitating farmers filed two collective suits on September 27. 231 farmers from the village of Nguti complained of disrespect of a 5km buffer zone while 13 others from the Babensi II village say SGSOC seized their land and bulldozed it without prior consultations.
The company was also recently accused of illegally exporting wood from Cameroon to China. 
Call for external support
According to Green Peace, Susan Tah Agbo, who takes care of 24 people thanks to her 20 hectares (49 acres) of farmland, is among the numerous farmers protesting the activities of the company. SGSOC holds a concession of approximately 20,000 hectares for palm oil plantation development. It was owned by the US-based company, Herakles Farms until 2015. The company initially wanted a 99-year lease of over 70,000 hectares of land. Since 2009 Greenpeace Africa, national and international NGOs have released numerous documents based on investigations into what they called "many misdeeds of SGSOC."
The Oakland Institute published a report last month, revealing the involvement of the US government in the conflict concerning Herakles Farms, Conservative Organisations, local communities, and the government of Cameroon.
It revealed the US government, through its Director of African Affairs and Ambassador to Cameroon, forced the government of Cameroon to consider granting Herakles Farms the 99-year lease.
The backroom bullying facilitated a provisional land lease granted via a presidential decree in November 2013 to SGSOC. It expires by the end of November 2016; reason why a coalition of several NGOs, of which Green Peace is a part, launched a petition today for the lease to be discontinued.
Just good business 
However, there are a handful of traditional rulers who share SGSOC's vision. They believe its plantations would bring development to the area and fight climate change, despite the fact that it would deforest pristine tropical forest. Some of them argue it is normal to destroy when building.
Chief Eben Joseph, one of the traditional rulers in whose village the project was being set up, told this reporter last year the project will bring development to his village. He also said the company would provide income to government and royalties to communities.
Quizzed on the inconsistencies in the project, he said, "it's just business," noting that one cannot invest where he will not make profit.
"You go where you will make the highest profit." he said. Meanwhile, the Oakland Institute report says many traditional rulers and administrative authorities involved in the land deal had been bribed by the American company. Nasako Besinga, a Cameroonian environmentalist told Blasting News, that plans are underway for the SGSOC's lease to be extended, following a recent visit to the area, of officials of Cameroon's forestry ministry.
Click to read more
and watch the video
or