Photos and video: Indian PM Narendra Modi takes his mothers blessings on 66th birthday
Rate this title
The most dynamic and popular Primer Minister of India traveled to his hometown in Gujarat to take the blessings of his mother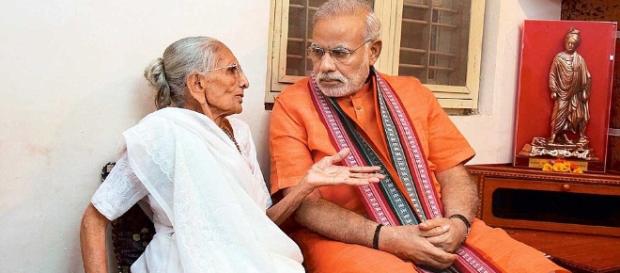 The Indian Prime Minister Sri narendra modi is celebrating his 66th birthday today, on September 17, 2016, and he began his day by seeking the blessings of his mother.
Bharatiya Janata Party (BJP), the ruling party of India has already organized an array of programs today, and he will attend various functions all over Gujarat.
Modi reached the residence of his younger brother Pankaj Modi in Gandhinagar at 07.15 AM in the morning. Modi spent nearly forty minutes with his mother and discussed a lot about his personal and professional lives. He also tweeted photos and a video on his official Twitter account. One picture shows Modi touching his mother's feet and taking her blessings.
He then reached Saket in the Raisan area where he met his close friends and family members. During his visit, he also tasted sukhadi, a traditional Gujarati sweet made with wheat, jaggery, and ghee. 
Unending commitments day and night
Sehwag Ji, you are very kind. Together we have to make this India's century & take India to new heights. https://t.co/RB0sJK72nC

— Narendra Modi (@narendramodi) September 17, 2016
In this Gujarat tour, he will meet the Chief Justice of India TS Thakur who is now in Gujarat to attend a judicial conference. His other schedule includes the  inauguration of a water supply irrigation project in Limkheda, Dahod. 
ANI news has shared the video of Narendra Modi with his mother on their official Twitter account, and it is now trending on social media sites.  
"The PM will inaugurate the Kadaina-Hafeshwar water project, which will provide water to several remote villages of this district", said Lalit Padalia, Dahod district collector, as per a report published in the Hindustan Times. 
Thank you @SrBachchan. Your wishes have touched me. https://t.co/BXUh8LC8vZ

— Narendra Modi (@narendramodi) September 17, 2016
He is also expected to address a public rally in the city. 
Celebration of Sewa Diwas
The BJP has planned many events across India as part of the Prime Minister's birthday, and they are celebrating it as Sewa Diwas. A special mobile application has been made for the public so that they can directly convey their wishes to the Prime Minister. 
Amit Bhai, thanks for the birthday wishes. https://t.co/9BEksyDszr

— Narendra Modi (@narendramodi) September 17, 2016
As the elections are just a few months away in his home state, the presence of Modi in various events is expected to enhance the chances of BJP in the state. 
Click to read more
and watch the video
or