Mother Teresa canonized before a huge crowd at the Vatican
Pope Francis canonized Mother Teresa into St. Teresa on September 4, 2016.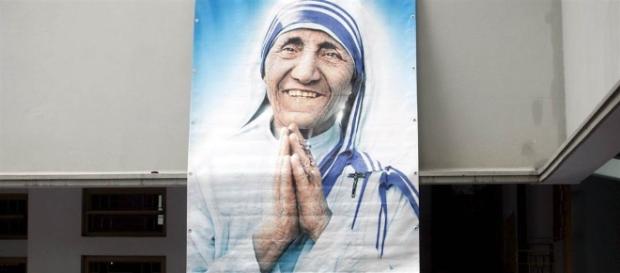 It was a long time coming, but it has finally happened. On Sunday, September 4, 2016, Pope Francis canonized Mother Teresa one day before the 19th anniversary of her death. Now she is St. Teresa. It will no doubt be hard to call her St. Teresa after calling her Mother Teresa for so many years. About 120,000 people attended the canonization ceremony in St. Peter's Square. While that is a huge number, it is less than half of the 300,000 who turned out for her 2003 beatification celebrated by St. John Paul II. Pope Francis praised the new saint for her life's work in caring for outcasts and marginal people. The canonization of St. Teresa of Kolkata was the culmination and celebration of the woman's entire life.
Mother Teresa's canonization celebration
Hundreds of Missionaries of Charity sisters had front-row seats at the Mass. About 1,500 homeless people and 13 heads of state and even royalty witnessed the canonization. Pope Francis ordered a lunch consisting of pizza that was served in the Vatican auditorium for the homeless. Other than the thousands of people at the Vatican, hundreds of people in Kolkata watched the Mass on television and clapped with joy when Francis declared Mother Teresa a saint. 
Mother Teresa's journey to sainthood
The new saint was born Agnes Gonxhe Bojaxhiu on Aug. 26, 1910. In 1929, she moved to India as a sister of the Loreto Order. In 1946, she accepted the call from God to start a new order to care for the unloved, unwanted and the poorest of the poor in the slums of Kolkata, her adopted city. Teresa's Missionaries of Charity eventually became a global order of more than 4,000 nuns, priests, brothers, and lay co-workers.
The caring woman was awarded the Nobel Peace Prize in 1979. She died in 1997. Shortly after her death, Pope John Paul recognized her for sainthood. So, you see how long the process has been. 
Reactions to Mother Teresa becoming a saint
People in the city of Kolkata rejoiced that this day has finally come. About 300 Christians gathered in front of a large television screen and watched the ceremony from Rome. Some wept with joy. Later, the nuns celebrated a thanksgiving service in her honor. Images of Mother Teresa could be seen on billboards illuminated by lights throughout the city. One nun concluded that Mother Teresa didn't just become a saint because she was always a saint. The celebrations will continue next month when the city plans to honor her life.
Click to read more
and watch the video
or