China's amazing mega-engineering; world's biggest and deepest high-speed railway station
Chinese engineers are planning the worlds deepest and biggest railway station for the Winter Olympics 2022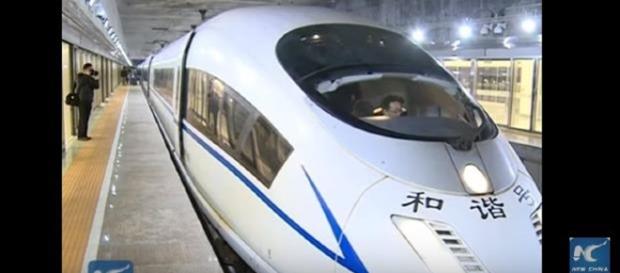 In six years time, china's engineers will have built yet another amazing megastructure - what will become the deepest and biggest high-speed train station in the world. The station will be built near a popular section of the Great Wall, according to "Reuters" and is expected to handle thousands of people who want to transit between Beijing and Zhangjiakou during the 2022 Winter Olympics. There is already a large rail network, but the increased visitors during the Winter Olympics combined with local and foreign tourism justifies the new engineering marvel. The China National Tourism Administration pointed out that the Great Wall of China saw over thirty thousand tourists on a single day over the Chinese New year. 
Simply huge dimensions
The "People's Daily" quoted Chen Bin who is the director in charge of No 5 Engineering Group for China Railways, as saying that the station will be as big as five standard soccer fields.
That's bigger than the world's biggest container ship. It will, to give an idea of size, be bigger than the Empire State Building. The entire space could be filled with the volume of hundreds of Olympic-sized swimming pools. If that is not impressive enough, consider that it will be located 102 meters below ground. To top it off, they will need to use special blasting techniques to avoid damaging the Great Wall which is a World Heritage site.
Megastructure firsts in China
The site will be named the 'Badaling station', which is at one of the most popular sections of the Great Wall of China. The Badaling station will not be the first of the biggest megastructures designed and built in China. In 2011, China opened the 26.4 mile-long (nearly 42 and a half kilometers) Qingdao Haiwan Bridge - the world's longest bridge over sea water.
That mega-structure was not thought to be possible as it pushed the boundaries of engineering to the limit. China also built the world's biggest concrete structure on the Yangtse River - the Three Gorges Dam. It is over two kilometers long and higher than a sixty story building.
When it comes to railway stations, China already has major structures in place. In December 2015, the largest underground railway station in Asia was opened in Shenzhen in the south of China. Other mega-engineering projects on the go in China include the world's longest undersea tunnel which is expected to be completed by 2026. 
Click to read more
and watch the video
or