Bizaar animal sacrifices turn streets of Muslim city in Bangladesh into rivers of blood
A multitude of animal slaughter combined with flood waters, turn the streets of this Muslim city into rivers of blood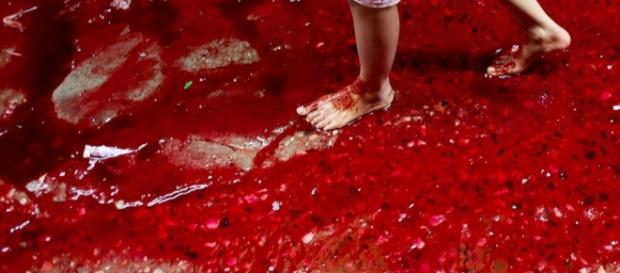 DHAKA, Bangladesh –  Muslims all over the world celebrated their holiday they call Eid al-Adha, or the Feast of Sacrifice, where they slaughter thousands of animals every year. However, they were not expecting the flood waters to mingle with the blood of thousands of slaughtered animals to cause their streets in the capital of Bangladesh to run red with blood. According to" Fox News", this is a yearly event that takes place in Muslim countries all over the world. 
The holiday, usually celebrated by sacrificing cows, goats, or sheep, is done to celebrate Ibrahim's test of faith. According to the religion of Islam, all Muslims must celebrate this day as a show of their faith.
They do this from Syria to Saudi Arabia. Considering that this is a mandatory celebration for all Muslims, some experts on the subject are concerned that the Syrian refugees coming to America may want to do this practice here.
Animal rights activists
This may cause alarm for all the animal rights activists in America. America is the world leader in the preservation of animal rights. So knowing this, many are wondering what impact this may have if performed within the American borders. Many are asking if the Obama administration has considered this dilemma or not.
According to the Michigan University Animal Center website, By law, if an animal is sacrificed for religious reasons, it is legal in most American states. However, with all the protesting in America these days, how would the American people live with blood running through their streets in rivers of blood? 
Other factors to ponder
According to history books, never in American history have we ever had animal sacrifice rituals out in the open public for all to see.
According to Muslim scholars, not only is public sacrifice required, but everyone witnessing it is mandatory. Many wonder how we would explain this ritual to our children. In today's world, If we are going to accept other cultures into our own, then the animal sacrifice will have to be accepted as well.