Zimbabwe Riot Police battle for control of streets in downtown Harare
Protests escalate in Zimbabwe as citizens and Police clash in capital city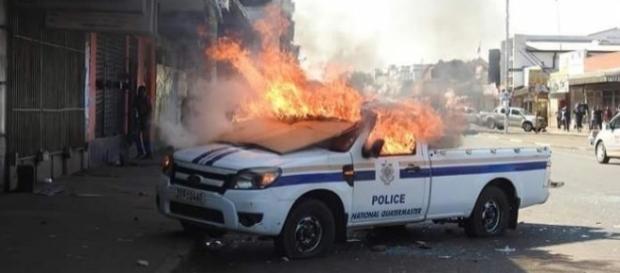 When images of people marching to protest in capital city Harare appeared on Twitter streams on the morning of 24 August, the immediate reaction of many was to assume that #ThisFlag supporters had once again taken to the streets of Zimbabwe to protest in their ongoing calls for the government to address their issues.
However, when the #ThisFlag citizens movement started to ask who the people were, it became clear that this was a demonstration organized by a major opposition party. There was some frustration voiced by #ThisFlag as they were initially unaware of the planned march. 
Someone saying it MDC protest , others saying it's #Tajamuka not sure yet. Will keep y'all posted. #ThisFlag pic.twitter.com/RCmm3G3BQU

— #ThisFlag (@ThisFlag1980) August 24, 2016
Protesters advance on Police ranks
There seemed to be a large turnout of protesters who marched around downtown Harare singing and carrying placards.
Riot police turned out and there were scenes of water cannon trucks, teargassing, and the sound of loud sirens across the city as Police clashed with the marchers. A video shows that initially, instead of running away, the marchers simply advanced on the lines of Police and pushed them aside. Later, however, when Riot Police responded with teargas, people were seen trying to get away from the smoke and citizens assisted each other by offering damp cloths to wipe their eyes.
One video showed the Riot Police firing a tear gas canister into a small commuter bus that was carrying passengers.
@UNZimbabwe @UNHumanRights @unpol @UN @UNPeacekeeping @UNGeneva is this acceptable in this world? #Save #Zimbabwe. pic.twitter.com/aj3apehvQJ

— ArmyOfMe (@Wild_n_Uncaged) August 24, 2016
There were later reports of looting and a photograph emerged of a police vehicle burning in the street.
Details of what happened are hard to verify and some have speculated the image of a burning Police vehicle was taken from a movie. It was assumed that this was carried out by some of the protesters,but some people maintain the violence was orchestrated by Ruling Party ZANU (Pf) to discredit claims by movements for change that they are protesting peacefully.
Why burn a Police vehicle?
Frustration at what is perceived to be outright corruption by Police at roadblock checkpoints was one of the main flashpoints of demonstrations back in early July. With money hard to come by as banks limit how much people can draw from their accounts and unemployment at an all time high, these payments which have been described as "bribes" are hitting the pockets of the people.
Scenes of Police attempting to restore order in Harare, and sometimes engaging in excessive use of force are angering those pushing for change. Violence, however, seldom brings any easy answers no matter which side is perpetrating that violence. The Police have been violent in their battle to control the protesters downtown, but leading supporters of #ThisFlag have cautioned against retaliation.
#NoToViolence. Don't give the regime a reason to unleash their army and police to harass the innocent #ThisFlag https://t.co/Ql7dXG7L7t

— Tawanda (@togatsi) August 24, 2016
Non-violence has actually been proven to be the most effective way to fight violent, oppressive regimes. #ThisFlag https://t.co/lFzZv9DQ7e

— #ThisFlag | Doug (@DougColtart) August 24, 2016
Is violence inevitable?
When some protesters apparently set fire to ZBC TV vehicle, people cautioned them, because many are aware that violence from protesters will only result in more violence from the Police. The ZBC is the government controlled media outlet in the country.
Crossing the line from peaceful protest to violent demonstrations is probably inevitable as voiced concerns are ignored and the outspoken are arrested, detained or beaten.  
#Zimbabwe: Protesters set fire on a car of the State broadcaster, #ZBC, in #Harare, today. #Thisflag #Tajamuka pic.twitter.com/kq0Y5i9vKP

— Nas lutas (@PersonalEscrito) August 24, 2016
If indeed, there is any truth to the allegations that the ZRP collaborated with the Zanu (Pf) supporters to engage in looting and violence, then this can be taken as one more step in the battle for control of the country. Allegations and counter allegations, covert and overt operations abound in Africa.
The looting is not typical of the previous marches by the peace loving masses, someone wants a basis to ban the Friday march. #ThisFlag

— #WezhiraWomene (@sipatha) August 25, 2016
Mass march planned on 31 August
There is a massive march planned by a combined opposition party movement on 31 August. The leadership called on all citizens for change to join them.
If the scenes in downtown Harare were anything to go by, predictions are that there could be more violent clashes.
There is a rumor that the army's 1 Commando might be sent out to control the streets. Governments everywhere deploy their armed forces when protests escalate into civil disobedience and violence. Nevertheless, a handful of citizens felt that the spill over into violence is merely tit for tat.
Click to read more
and watch the video
or