Zimbabwe Police break own mandate to protect life by assaulting men bearing peace flowers
Zimbabwe Police excessive force against unarmed flower bearers breaks own mandate to protect life and property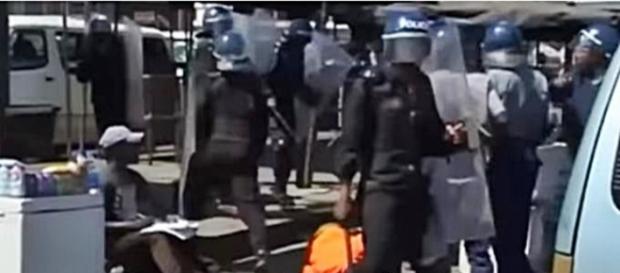 Last week, two men were beaten outside the main Harare Central Police Station in Zimbabwe. They attempted to give Police flowers, but a shocking video emerged showing more than ten Police beating one of them while he still clutched his bunch of flowers. His peaceful gesture landed him in the hospital. The Police have a mandate to protect life and property, but when they attacked those two men, they were not protecting any property, and the only lives in danger were those of two unarmed citizens bearing flowers.
Assault with intent - bodily harm
The use of Police Brutality through excessive force is unjustified and should be severely punished.
There is no reason why, under the criminal laws of Zimbabwe, those Police officers should not be prosecuted for assault with intent to do grievous bodily harm. However – there is unlikely to be any censure from the government authorities, who are using increasingly violent means to silence voices of criticism.
Riot officers beats up vendors leader Sten Zvorwadza,who was part of the Tajamuka demonstration yesterday in Harare pic.twitter.com/4wqKXo6Y8j

— Tafadzwa Ufumeli (@TafadzwaUfumeli) August 18, 2016
Various hashtags are trending in Zimbabwe, and more recently #ThisFlower started trending alongside #ThisFlag – a citizen's moment for change. The #ThisFlower campaign has been used by Women and Men of Zimbabwe Arise (WOZA) in the past. WOZA started in 2002, and they describe themselves as a social justice movement with nearly 100,000 members.
#Thisflower gaining traction. @wozazimbabwe @WOZAJenni have inspired it for years. Glad the message is catching on. pic.twitter.com/6lGHlgpqaI

— Ntombinkulu (@BusieBhebhe) August 21, 2016
The supporters of #ThisFlag include people across the Diaspora and those groups who have taken issue with government corruption, bans on cross-border imports and the issue of bond notes, amongst other grievances. One of their demands is for the government to come clean on the whereabouts of Itai Dzamara, an activist who disappeared after abduction 17 months ago.
Peace offering met with unjustified violence
Patson Dzamara and Sten Zvorwadaza thought that offering peace to the Zimbabwe Republic Police through the use of flowers might be a good way to show that they are not trying to fight the law and order authorities of the country. Sten is a leading member of a group of traders who have been hard-hit by the import bans on a range of basic commodities. Their efforts were in vain and instead of just moving them along, or even just prosecuting them for a minor misdemeanor, the  Riot Police were turned out– an estimated 50 of them, to deal with the two flower bearers.
They were attacked with baton sticks and while Dzamara managed to avoid the worst of the beating, the Police beat Sten to the pavement.
"I teamed up with my brother Sten Zvoradzwa, and we went to Harare Central Police Station to hand flowers to the police as a gesture of peace and love," Dzamara told Nehanda Radio. He went on to describe how he managed to get away, but Sten did not and "about 15 people in riot uniform took turns to beat him with baton sticks as he lay helplessly on the ground."
Ironically, there have been rumor and reports that it took plain clothes detectives to stop the beating, and one young street-kid tried with all his might to break it up. Sten landed up in a hospital as he was badly hurt. He gave an interview to On Demand News (ODN) who carried a report on Police violence, following his release from the hospital. Scenes of violence by Police are graphic, and viewer discretion is advised.
Despite the excessive use of force meted out by the Police on peaceful protesters who are exercising their constitutional right to protest, the African Development Group recently reported that there were "no further human rights violations in Zimbabwe." The United Nations are strangely quiet on the issue and the #ThisFlag movement, are planning a huge protest at the 71st sitting of the UN General Assembly in New York on 17 September.
Click to read more
and watch the video
or