Zimbabwe High Court interdict over-rules Police ban on mega march for electoral reform
Coalition of opposition Parties and movements for change to march in Zimbabwe on Aug 26, but the armed forces already deployed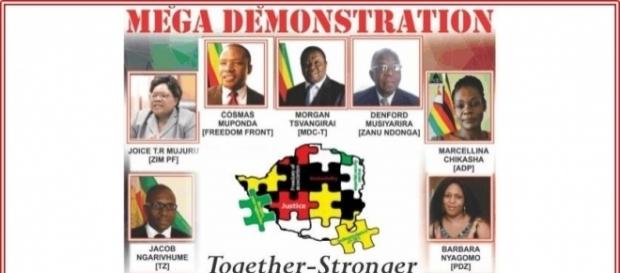 In Harare today, the Zimbabwe Government deployed their Police Force in advance of a mega-march to demonstrate for electoral reform in the country. This reaction followed a High Court interdict to hold the march after Police had refused them permission. The march was called by the National Electoral Election Agenda (NERA) and supported by a coalition of 18 opposition political parties and citizens movements for change and reform.
VOA Zimbabwe reported that Police has apparently deployed in the smaller towns of the country. In the town of Masvingo, a concerned resident said that they "can no longer walk freely in the streets because Police are everywhere.
The government blames foreign agents for the rise in protests
The Zimbabwe government security office said in a video that they are "fully aware of the agenda of the opposition political parties and various groups who want international intervention in Zimbabwe's internal affairs. This will be stopped." He went on to say on behalf of the government that they will not sit "idly by while our country is being torn apart by unruly foreign-sponsored agents." The government has been blaming foreign embassies for the rise in protests across the country, and President Mugabe has long referred to a 3rd Force involvement.
Protesters have been urged to protest peacefully.
Today is a big day. Support the #NERA march: say "NO" to Violence, say "YES" to a free Zimbabwe. #Tajamuka #ThisFlag pic.twitter.com/Hp4HcyM9It

— #ThisFlag | Doug (@DougColtart) August 26, 2016
Activists prepare for confrontation
Activists anticipated a violent response from the Police.
Links to the International News Safety Institute were shared online so that demonstrators could prepare themselves against tear gas ahead of time. There were reports from clashes the day before at a march by the Movement for Democratic Change to protest Police Brutality in the country, that Police had sprayed a blue liquid from the water cannon trucks. It is presumed this was a mixture of water and either CS or CN gas with a dye in it. Hospitals reported people with chest, and breathing problems and skin irritation were treated in the emergency departments.
Are the Police starting to waver in the face of large crowds?
The protesters are hoping for a large turnout, as Police might find it more difficult to baton charge large crowds. This was evidenced in Harare on 25 August during the demonstrations, when videos of the march showed Police actually allowing themselves to be pushed out the way, and they retreated ahead of the crowd.  The #ThisFlag progenitor, Pastor Evan Mawarire who is in the United States meeting with Zimbabweans in the Diaspora and arranging international protest action sent one of his customary videos to the people of Zimbabwe, urging his fellow citizens to stand with the coalition in large numbers.
This Friday, Citizens March for electrol reform. Let's turn out in our number! #ThisFlag @pmkwananzi @DrPatson pic.twitter.com/KGmqRdjs9m

— #ThisFlag (@ThisFlag1980) August 24, 2016
The army – an unknown factor
Nevertheless, with rumors abounding in Harare last night that the Army had been deployed to deal with the protestors, turning out could be a painful experience for activists. It is not certain where the Army stand in respect to the push for change. Apart from very senior officers, who have made it clear they will not tolerate civil disobedience, word is not filtering out. There was a video posted to YouTube six weeks ago, where an unidentified officer said the army were not there to wage war on their own citizens. Over the past ten years, there have been reports of occasional mutiny's within the army, but information is terribly difficult to obtain when comes to court martial offenses.
Click to read more
and watch the video
or