Zimbabwe – failing state, no bailouts and desperate measures to keep armed forces loyalty
China stance on no Zimbabwe cash bailout could swing armed forces loyalty over to citizen protestors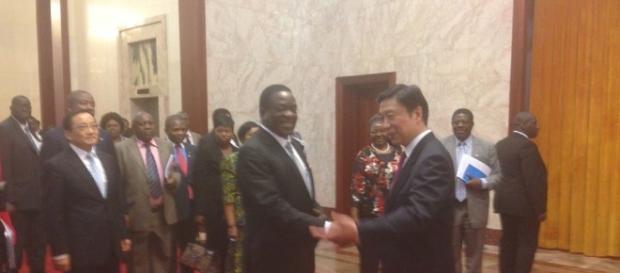 In Zimbabwe, China sought to strengthen its economic footprint in Africa through concession loans. According to Professor Mills Soko, Associate Professor of International Political Economy at the University of Cape Town there is a cooling in relations between China and Zimbabwe. This could revolve around the link between the economy and stable governance.
During his interview with TV Cape Town recently, he talked about China and poor investor confidence in Zimbabwe. Slow investment revolves around a lack of structural reforms to revitalize the economy. He explained that Robert Mugabe turned to the East as one of his concerns with western countries was their demand for political reform in exchange for aid packages.
However, China too is now calling for reform before any more cash is given to the Zimbabwe Government.
China may be growing tired of bailing Zimbabwe out of their cash troubles. $1.5 million dollars is owed to China and they have defaulted on these notes. Zimbabwe is bankrupt and China is clear on their stance – that Zimbabwe must work their way out of the poor economic state and address corruption in state owned enterprises.
A top Chinese condition for renewal of support to the current government is a clear track to succession. It is widely believed that the Chinese prefer Emmerson Mnangagwa to succeed Mugabe. Whilst he is considered competent, he has an association with some dark issues– particularly with the Matabeleland massacres in 1980s and he has overseen the State Police (CIO) - a feared and hated agency.
There is some support for Mnangagwa but there is also opposition, mainly from Generation Forty (G40). This group of younger people in the political establishment includes influential persons such as Jonathan Moyo who may have lined up with the First Lady, Grace Mugabe. Becoming President will not be an easy ride for Mnangagwa.
With no cash from the East, Mugabe was humiliated into sending his financial minister to the west to beg for cash. Financial institutions like the IMF want to see arrears paid and major structural reforms before they will offer a bailout package. They are owed $1.8 billion.
Division in government
Mnangagwa indicated that Zimbabwe has no option but to reform, which means they will require the support of the west. Others are afraid of giving western institutions hold over Zimbabwe. This resulted in internal struggles over which direction they should take. In the meantime citizen's movements and opposition parties are taking their protests to the streets where they face blatant police brutality.
Zimbabwe is a failing state and each day that goes by, excessive use of force by the Police against protesters brings international notice to human rights issues.
Urgent cash needed to keep army loyal
This year Zimbabwe has trouble paying their armed forces. Mugabe's approach to the west might be motivated by a desperate desire to stabilize the economy before armed forces loyalty changes.  At the back of his mind will be the ousting of Mobuto in (Zaire) Congo, following non-payment of their armed forces.
ENCA TV ran a story on 29 August, which indicated there is a core of disgruntled members of the military. According to ENCA, some "unpaid rank and file members have joined mass protests demanding the resignation of President Robert Mugabe and his administration." Indeed, there may be some armed forces personnel empathetic to citizens movements as there have been instances of advance warning of crackdowns.  
CAJ News reported that anonymous officers said that they are "in solidarity with the protesting masses as they too are impacted by the unstable economic situation." An Air Force officer called for the Police to stop repressing the people, because if necessary, they would take up arms to defend the protestors as per their constitutional rights.
Click to read more
and watch the video
or