Untold story of struggle by a Pakistani woman against extemism
Amidst the wave of extremism in Pakistan, Tamina Mirza is fighting against terrorism in her society.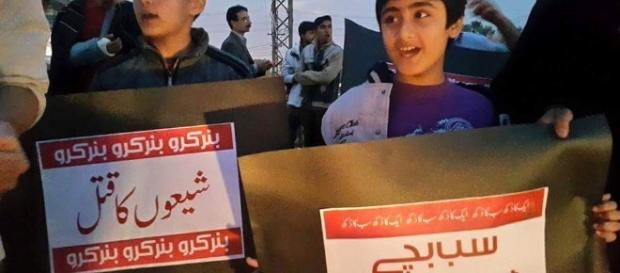 Tamina Mirza is a Lahore based social activist and teacher. She has been protesting against the extremism and terrorism in Pakistan since 16 December 2014. Her monthly protests and struggle against extremism motivated me to interview her. The interview was conducted in Lahore.
How to avert the status-quo?
"Well, challenging the status quo is the need of the hour because a woman in her entirety is sick and tired of losing her father, brother, husband or son in an act of terrorism or extremism.Voices have to be raised for her future and the future of her progeny.
Women make up 52 percent of Pakistan's population and I firmly believe that they can play a remarkably significant role in countering extremism and terrorism by working towards a progressive peaceful society starting from her own. Moreover, it is necessary for women to raise their voices so that  we can constructively build a positive image of Pakistan as a Pakistani woman possesses every ability to condemn social evils on any platform.
 And it's a pragmatic reaction to a chaotic situation. The motivating  factor throughout the protests has been to raise voices and social awareness in as little or as much capacity as one could against terrorism and extremism. No one can forget the darkest day in the history of Pakistan. 16th Dec 2014 , the worst massacre of  hundreds of bright innocent children, took place in APS Peshawar . We had two options - either to stand up and fight or remain passive. I, being a teacher and a mother of a young child felt the pain of those parents and just in my own small, little way paid my debt by protesting on the 16th throughout the year."
Motive behind protests
"The protests were apolitical so that no one would try to cash in on the blood of children. It was a daunting task to collect people onto the same page.
The numbers kept fluctuating but people were not afraid.The fervor with which they joined meant that the majority wants peace so that their kids can have a safe future. The Christian community also joined a couple of times in these protests. People from other cities also at times joined in these monthly protests which showed that the message was spreading across. Children also used to join in and so did my students. The common Pakistani are the majority against this mindless terrorism.
I abhor the apathy and hypocrisy prevalent in our society. I want to galvanize them into a well aware and active force that will not be trampled upon by ignorance and complacency. We have to rise in righteous indignation and actively reform the society. So now our team which comprises of selfless people protest against every injustice and especially the Taliban."
Why whole of society should join her?
"I could have just as easily been a part of complacency and passivity - but my conscience is bound and inextricably allied with the mothers of the APS massacre - to prevent such an atrocity I will never let that day fade in my heart.
The simple message is that we can either succumb to the monster amidst our everyday lives wait in terror for the eventual apocalypse - or get up and do something about it.
We need to stem the tide of blood, to reclaim the sanity so heedlessly squandered by mercenaries, warlords, and hired killers in our towns, villages and neighborhoods.  As a teacher, I felt that if extremist elements extend beyond classroom then I have to take my message of enlightenment to the streets. During these protests many hate campaigns broke out against me but I continued the struggle and will do so. Many people time and again tried to hijack the noble cause for their nefarious political motives but failed since many sincere people stood by me."