Trump's connection with India is alive with construction of Trump towers
Rate this title
Donald Trump has lent his name to two iconic residential towers in Mumbai and Pune for an undisclosed fee.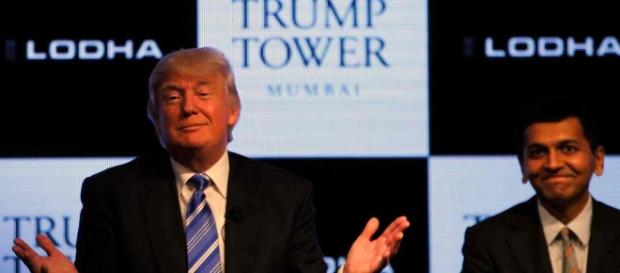 In 2014 Donald flew into Pune in his personal jet for the launch of an iconic residential tower to be called the Trump Tower. Pune is a mid-sized city about 160 km from Mumbai. Earlier he had agreed to lend his name to another iconic residential tower in Mumbai the financial capital of India. Trump had been approached by Lodha one of the top builders in India to lend his name to these towers. The towers were named after him and reports suggest that Trump did not pay a penny but received a large sum of money (undisclosed) from Lodha to use his name for the towers.
Brand Donald Trump
The name of Donald Trump has magic around it and just within a short time both the towers were sold out.
Film stars like Rishi Kapoor, the 3 Khans, Ranbir Kapoor and men with money in the corporate world bought these apartments long before the construction commenced. All credit to Donald Trump who would perhaps be surprised that in far away India his name has marquee value.
Trump does hold a fascination for Indians and just last month the Hindu Sena held a prayer meeting at Delhi where a "havan"(Hindu prayer) was held to appease the gods to grant victory to him in the coming election.
The construction of the Trump towers is in full swing and it is rumored that he will also be given a cut from the sale proceeds of the towers. The fact is that the builder Abhishek Lodha is convinced that the Trump name has great brand value and he is justified as the towers were sold in very little time. This establishes that Donald is a brand by himself.
The future
Some questions have now arisen about the ownership of the land in Pune. The corporation is investigating the transfer of the land for the Trump tower.  But with construction in full swing, one can be sure that nothing much will come out of this investigation. Trump is now in the middle of his election campaign and will not have time to visit India, but one can be sure he will make his presence felt after the election. The builder Abhishek Loda speaks highly of Donald and the way he conducted himself at Pune, during his last visit.
Click to read more
and watch the video
or