Ryanair: man runs across tarmac at Madrid airport after missing flight
A Bolivian man was late for his flight and broke every security protocol in the book to try to catch his plane.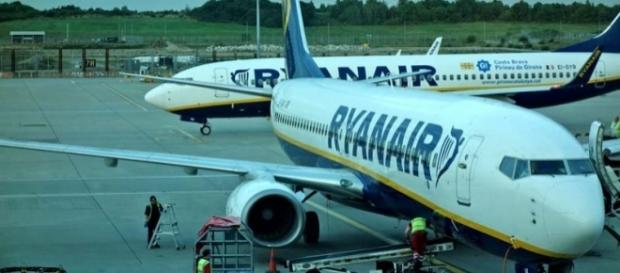 After a man missed his final boarding call for his Ryanair flight, he became desperate. Video footage captured the moment, as the desperate traveler jumped off the jet bridge at the Adolfo Suarez Madrid-Barajas Airport and sprinted across the tarmac to the already moving plane. In full breach of all security regulations at what is one of Europe's biggest airports, he can be seen first landing on the tarmac after jumping from the bridge, and then speaking to a driver of a baggage cart, trying to flag down a ride to his plane. The driver wasn't having any of it, and drove away.
The man then ran with his two bags across the tarmac, while the Ryanair Boeing 727 was already pulling away from the terminal, ready to take off.
The desperate traveler is believed to be a Bolivian national and his final destination is unknown, but once he had run across the tarmac and actually reached the plane, he was captured by two people who look like airport staff. At this point, the video footage ends. You can watch the video below. 
Ryanair passenger misses his flight and gets a fine for his trouble
According to a report in the Telegraph, the desperate traveler was not allowed to board his flight and is likely to be facing a huge fine for breaking airport security protocols. The video footage was shared by CC.OO Ryanair & Lesma Handling on their Facebook page with a caption in Spanish stating that this is how travelers in Madrid behave when they are running late for their flights. As they stated, the passenger in question was missing his Ryanair flight and broke several level 4 security protocols set by AENA in Spanish airports.
 The poster added that even with the high levels of security set at the airport, it does not feel safe.
Video of the man's antics goes viral on Facebook
The post on Facebook has gone viral and has been viewed over 1.3 million times and shared by more than 7,400 users at the time of writing. Most Facebook users have reacted with "Wow" or "Haha" and find the footage amusing. The Telegraph quotes a Ryanair spokesperson as saying that as the incident relates to a security breach at the airport, the man's actions are a matter for the Madrid Airport Police.