Norway: More than 300 reindeer killed in lightning strike [Video]
Rate this title
323 dead reindeer have been discovered by a hunting warden in Hardangervidda, Norway and are thought to have been killed during a recent storm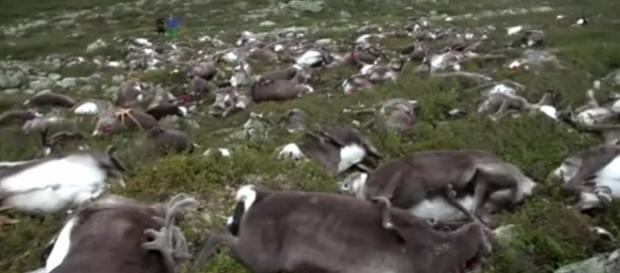 It was when an official from the Norwegian Nature Inspectorate (NNI) was carrying out a routine inspection on Friday that the reindeer were discovered, all lying close to each other on the ground. As a powerful storm had passed through Telemark just before this, officials are blaming the deaths on lightning. Knut Nylend, a spokesman for NTB, said the deer were lying in a fairly concentrated area, adding that reindeer are pack Animals which often huddle close together, especially when in fear.
The area in which they were found is a private hunting area between Kalhovd and Møsvatn in Telemark and is well off the normal beaten track with no hiking trails close by.
However, there is no sign that hunting caused their death. While most were dead and charred by the lightning strike, according to the Telegraph, five reindeer had to be euthanized.
Photos emerge from Norway where a single lightning strike has killed at least 323 reindeer https://t.co/L0I6CAOQbo pic.twitter.com/Xbmpwper37

— BNO News (@BNONews) August 28, 2016
Samples to be tested by the Norwegian Veterinary Institute
Sunday saw officials flying to the area to take samples of the animal's bodies for testing. According to Nylend, these samples are to be taken to the Norwegian Veterinary Institute for research to find out how the animals died. Nylend said that while they have heard about animals being killed by lightning strikes, they don't recall anything quite on this scale before. It is also unclear whether there was more than one lightning strike involved.
As for the many carcasses, officials have not yet decided whether they will be left where they are or removed. With the area being so out of the way, this would not, apparently, be an easy task.
Norway's largest reindeer range
According to the Local, Hardangervidda, where the dead reindeer were found, is Norway's largest wild reindeer range, with around 10,000 reindeer migrating over an 8,000 square km area. According to Nylend, the animals are shy and tend to move around in herds, which can be smaller or larger depending on the weather. Reportedly the hunting season, which began on August 20th, also affects the migration of the reindeer. While around 8,000 hunting permits have been issued for the Hardangervidda area, officials expect only about 30 percent of the quota to actually be taken up.
Click to read more
and watch the video
or