A large mischievous group of macaque monkeys in northern Thailand raided a Buddhist temple serving as a polling station and tore up paper voter lists.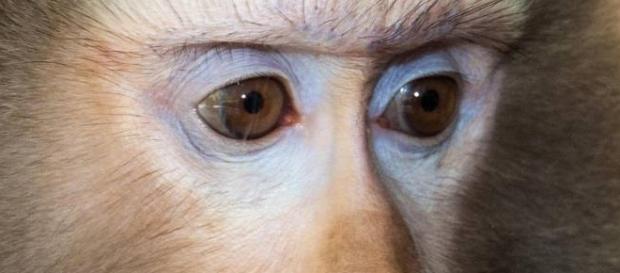 In the bushes on the grounds behind the Wat Hat Mon Krabue Buddhist temple, which lies some 220 miles north of Bangkok, Thailand, there is much monkey business afoot. There resides a significant cluster of macaque monkeys, who generally don't get involved with politics, but a few days ago made their mysterious intentions known.
Monkeys invade polling station and destroy voter lists.
The temple's open hall has been used as a voting site many times in Thailand's history of national elections. This event marks the first occurrence of any kind of interference. This time, the hall was set up for an up-and-coming national vote on a proposed new constitution slated for August 7th.
Last week, more than 100 pig-tailed macaques dissidents invaded the temple and tore up one-third of the voter rolls. They didn't stop there and also demolished other important election-related documents, including voter instructions posted publicly for voters.
Why did the macaque monkeys attack this non-threatening voting station?
Thailand election officials were at a loss as to how to deal with the marauding and very undemocratic invaders. Some brought food and vegetables to the scene, but they proved ineffective and other measures, such as installing heavy glass doors, may need to be taken. Prayoon Jakkraphatcharakul, Phichit district's election official, told the Bangkok Post: "The glass cases should deter the monkeys, but if they are smart enough to find a way to open the door, that could be problematic."
Although no one can say for sure why the monkeys attacked the voter lists, Prayoon believes that the allure might have been their color, which was bright pink.
In his own words: "There were only a couple of lists left on the board by the time the police got there. Some of the monkeys were still even holding onto the papers."
Why is this up-and-coming election so important?
For the last two years, a junta government has ruled Thailand and activists have boldly defied the military, pushing publicly for a return to an egalitarian way of life. The government has enacted a law forbidding criticism either for or against the proposed referendum. The powers-that-be promise a harsh, 10-year prison sentence to all those who question the ruling. Although some brave citizens have dared to call their bluff and have been arrested, so far there have been no convictions. 
Although it is not likely that the monkeys are secret agents for the junta aimed at destroying the right of citizens to vote in Thailand, one can only wonder about what they will pull next. Is the paper escapade only the beginning of the monkeys' bid for attention and expression, and will it influence the actions of dissident voters in the future? Perhaps time will tell. After all, monkey-see, monkey-do.
Click to read more
and watch the video
or