Marcos' remains likely to be buried at the Heroes Cemetery (Libingan ng mga Bayani)
Rate this title
The late Ferdinand Marcos Sr. may be honored by a heroes burial 27 years after death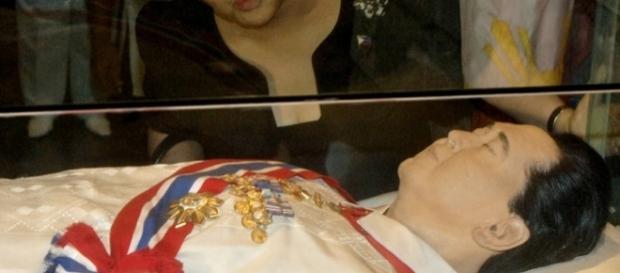 The late dictator's remains may finally be buried at the Libingan ng mga Bayani (Heroes Cemetery) in September this year, 27 years after his death. His son, Ferdinand "Bong Bong" marcos Jr. told media in a press conference that this good news came from no other than Rodrigo Duterte, the country's current President. Bong Bong Marcos said that it's his father's right as a former president, as a former soldier, as a be-medaled soldier, that he be buried in Libingan ng mga Bayani.
Ferdinand Marcos Sr. was the Philippines President turned dictator from 1965-1986. Due to charges on graft and corruption, millions of people in Manila had a revolution known as EDSA Revolution or the People Power Revolution to oust the latter from the  presidency.
Marcos and his family flew to Hawaii just before people ransacked the Malacanang Palace, the country's official seat of the government. In 1989, Marcos died due to kidney, lung, and heart ailments.
Dictator not laid to rest for 27 years
The remains of the dictator were preserved in a back-lit transparent glass in a mausoleum in his hometown in Batac, Ilocos Norte province. The place is open to public and has become an attraction in the town. The Marcoses are hoping that one day, he will be laid to rest at the Heroes Cemetery. Despite his dictatorship, many believe that he did many good things in the Philippines and that he truly deserves a heroes burial.
Anti-Marcos Protests and rally's
Thousands of alleged victims of the Marcos dictatorship held a rally at the Luneta Park in Manila this month to oppose the burial.
Neophyte Senator Risa Hontiveros filed a resolution seeking to stop the burial. She believes that the human rights abuses during his regime are reason enough for the late dictator to be disqualified and not be remembered in history as a hero. Hearings and debates are ongoing and no final decision has yet been made. The Supreme Court of the Philippines is currently looking into this matter and will have the final say. This is an on-going story.
Click to read more
and watch the video
or