Harare - no Police action after kids offer them cake at gathering for missing activist
Peaceful gathering to honor missing activist for peace at Unity Square, Zimbabwe results in no brutal police action after kids offer them cake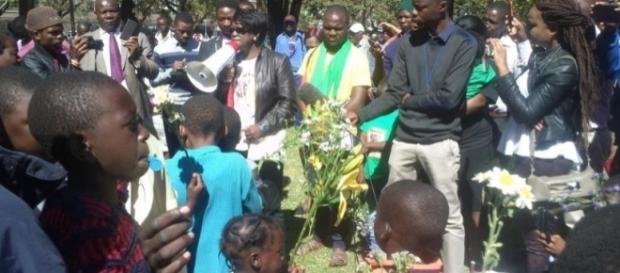 As has become the norm in the brutal crackdown in Zimbabwe, peaceful, well-dressed and polite men, women and children gathering in Unity Square, Harare to honor missing activist Itai Dzamara probably expected to suffer aggressive Police action. The Riot Police arrived along with water cannon trucks, shields and baton sticks ready to engage in violence. But maybe when the little kids of the Dzamara family offered them flowers and cakes -  which were refused - their hearts were melted somewhat, as for a change, there were no tear-gassing or beatings reported. Hours later, there were still no reports of violence.
Heroes and poignancy
Notices were sent out via social media advising that there would be a gathering at Unity Square in the Capital City of Harare in the name of Itai Dzamara.
Itai has a family who is grieving their breadwinner, brother, and father. It was a poignant time for friends, family, and supporters to gather in the name of Itai as Zimbabwe celebrated their Heroes holidays over this long weekend. To those looking for peaceful change, Itai represents the real heroes of their destitute country, and there have been suggestions made that once there is a change in government that Unity Square should be renamed after Itai.
Riot police refused to accept flowers & queen cakes they were being given by kids that were brought along by the #Dzamara family @TrendsZim

— Open Parly ZW (@OpenParlyZw) August 10, 2016
Seventeen months ago, Itai Dzamara, a peaceful activist for change in Zimbabwe was abducted and disappeared. Despite calls to the government asking to reveal the whereabouts of Itai, or to confirm if he is alive or dead, to date nothing is known of his whereabouts.
Kalabash, the website that pushes for change from street to the web, described Itai as a man of great courage. Itai went to "Kaguvi Building right to the President's office and told his story," wrote Philani Nyoni. Itai and his supporters were occupying Unity Square to demand answers and change from the government as far back as 2014 after they handed in a petition asking the 93-year-old president Mugabe to stand down. For doing that, Itai may very well be dead. Hopes that he might still be alive somewhere, perhaps incarcerated in a re-education camp or stashed in some Police cell are fading fast.
A different type of day
Wednesday seems to have become a protest day in Zimbabwe and they often end up with Riot Police beating protesters and arresting those participating, but today was different and it may be due to the little kiddies who offered them flowers and cakes. Nevertheless, there was some criticism by the @Freedomwatch Twitter account that children should not be used in this way.
Missing #ItaiDzamara's family confronted police and protested, with their children on the front line. pic.twitter.com/miBR112EJG

— DailyNews (@DailyNewsZim) August 10, 2016
For the average Zimbabwean, attending peaceful protests carries a very real danger of arrest and physical abuse. The Mugabe government seems to have a big stick and they have used that stick to stay in power for 36 years. Thousands of people who voiced any dissent since the 1980's have been killed or abducted and many others have been beaten, arrested and tear-gassed.
Silencing dissent
The country is enduring terrible economic conditions through fiscal mismanagement, missing billions, and corruption on a massive scale. Unemployment is over 90 percent and self-employed traders have been hard hit by recent import bans imposed despite regional SADC trade agreements. These are all issues the citizen movements for change wish to see addressed.
Social media clampdowns have been implemented by the government in an effort to silence dissenters. New draconian laws are being drafted that will see Police granted powers to confiscate digital technology capable of accessing social media and will carry a prison sentence of up to five years. This extends to Zimbabwe proposing to extradite and jail citizens engaging in government criticism from the Diaspora. Government pressure has seen the price of internet data rocketing by 500 percent in the past week. The Army have trained a new cyber police unit to monitor and disrupt internet social media exchanges by those who communicate their aims via sites like Twitter.   
Click to read more
and watch the video
or