Facebook supports She Leads Africa in drive to help women African entrepreneurs to success
Men dominate business in Africa; through networking and training, Facebook and SLA workshops grow women's business across the African continent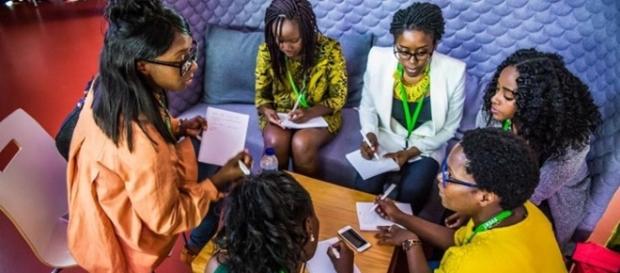 In a Press Release issued by APO, Facebook said that they were sponsoring and fully endorsing the development of female entrepreneurs in Africa. She Leads Africa Org, is a Business movement that focuses on women in business so they can "unlock their full potential." In a "boot camp" held in London, UK a four-day event held last week was hosted at the headquarters of Facebook. Dubbed the SheHive event, workshops were held about building  business skills amongst women across the continent of Africa.
Amongst those who addressed the participants, were African business people who shared their experience and insights with delegates.
The She Leads Africa organization has been operating for two years and now has over one hundred thousand members from across the continent and in the Diaspora.
The Facebook platform is ideal for emerging businesses
The Public Policy Manager for Africa at Facebook, Akua Gyekye said that the Facebook Platform is ideally suited to enabling "consumers to connect with African entrepreneurs" and there are millions of people who use the Facebook platform to "communicate with small businesses every year."
An incredible sixty million businesses use the Facebook Platform which presents an ideal opportunity for business owners to get their products and services out to the consumer in a meaningful and professional way. Gyekye said that Facebook is "delighted to support She Leads Africa," as it means that African business women can learn, share and grow in a "supportive and inspirational environment."
The London event was an open one, and the expert training sessions addressed topics that African women need to understand so they can be successful in business ventures.
It provided a superb opportunity for African based women to network and communicate with those in the Diaspora. Females in business in Africa who network to help others is one way to lift African women out of the drudgery of housework and poverty. More and more African women realize that they cannot sit and wait for governments to give them a helping hand – and they need to help themselves. Business building is made so much easier through the support of large companies like Facebook.
Men dominate business on the African continent
As She leads Africa Co-Founder Agua Osei pointed out - men dominate the business world in Africa, and this is an opportunity to help women break the mold and make a better contribution to growing the economy. By empowering female entrepreneurs with "a tool to grow their business, Facebook is a perfect partner for us," Osei said.
The event in London is not the end of the project by any means. There are more events planned in the future. Facebook's Gyekye explained that they want to help to uplift women, create jobs and inspire others.
Their "mobile tools" will assist female business owners in communicating in "a relevant and personalized way." Because of this, they have planned to outreach within Africa itself. She Leads Africa, and their Facebook partner will be hosting further events in Africa this year, with one scheduled for Lagos and another in Johannesburg.
Opportunities to grow a dream
Blasting News spoke to Sibongile, a young woman who makes baby clothes in South Africa's Mpumalanga Province. "I watched my mother selling sweets and cigarettes on the side of the road so she could educate me. There is so much more opportunity for my generation to lift our families out of poverty. I want to use my mother's determination and my access to modern media to start a chain of baby stores that will make life easier for women trying to raise families in rural areas of Africa. I want to take my product to them rather than wait for them to come to the city chain stores. My dream is to grow from the three employees I have now, into a large manufacturer which offers employment to many women. I will definitely be attending the SheHive Johannesburg event."