Endangered Mangabey monkey has been born in Barcelona Zoo
As part of an active captive breeding program, there is one more endangered Mangabey monkey in the world after a recent birth.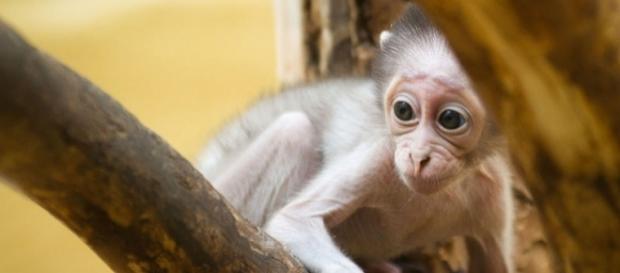 Mangabey monkeys are one of the 25 most endangered primates in the world and are in danger of extinction. In the wild, there are thought to be only as few as 1,000 of the cute monkeys in West Africa. As with many endangered species, their numbers have been reduced by deforestation and the illegal bush meat trade in the region. According to Dr. Maria Teresa Abelló, who is the conservation co-ordinator at Barcelona Zoo, this new arrival goes to reflect the success of the captive breeding program at the zoo.
The newly born endangered Mangabey monkey is a girl
According to a report by the Spanish language news service 20 Minutos, the new baby is a girl and is the second generation to be born in Barcelona Zoo.
The baby's mother, Monika, was born in the zoo back in 2009 and gave birth to her first baby last year. The new baby's father, Racky, is 12 years of age, and was transferred to the Barcelona Zoo from the zoo in Accra, Ghana in 2014. The city of Barcelona has now dubbed August 1st "Mangabey Awareness Day" both in honor of the new arrival, but also to raise awareness of the plight of this endangered species.
Madrid also had a recent arrival – an endangered Bornean orangutan
It seems Barcelona's big sister, Madrid, the capital of Spain, also had reason to celebrate recently, as a Bornean orangutan was born on May 29 in the Zoo-Aquarium in the city. What was unusual about this particular rare birth was that zookeepers, visitors to Madrid and animal lovers worldwide got to watch the birth happen live, via the video app, Periscope.
According to vets at the zoo, the baby had a natural birth and surprised them all with the speed of arrival into this world.
As reported by the Local, The new baby was born to parents Surya and Dahi and reportedly both mother and baby are doing well. While initially both mother and baby will be kept separate from the other orangutans in the Madrid Zoo as the pair bonds, they will eventually be introduced to the rest of the family. Besides the baby's parents, there is another female orangutan by the name of Kedua, along with the new baby's brother Sungay and another pal by the name of Boo. Touching scenes of mother and baby orangutan can be seen in the video included below:
Click to read more
and watch the video
or