Zimbabwe: #ThisFlag Pastor Mawarire posts video to reassure citizens he is safe
Pastor Evan Mawarire posts video feed to reassure citizens that he is alive and safe in South Africa.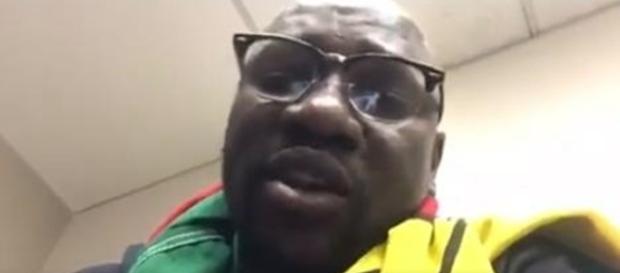 A written Facebook post from Pastor Evan Mawarire that circulated on social media had many of his followers concerned that he may have been abducted by State Security Police following his release from custody last week. In a sensational moment, when the magistrate decreed he was a free man and could not be charged with treason, the #ThisFlag movement for change went wild with joy. Within days there was information circulating that the Police were once again hunting for him – and then – silence from their Pastor.
The video appears to be genuine.
So many people were concerned that he may have been captured and possibly even suffered the same fate as activist Itai Dzamara who disappeared without trace 16 months ago.
To the relief of everyone, last night Pastor Evan posted up a video that reassured his people he was alive, very well looked after and is safely in South Africa. There had previously been speculation that if he was alive and in Police custody that they could make him do a video. However, everything in his latest video appears to be genuine.
Not made under duress.
The Pastor greeted his people in his customary way – as "fellow citizens" and his message to continue to peacefully struggle for change in Zimbabwe was very similar to those messages he always posts in his videos. He did, indeed, speak in both the English and the Shona languages as is his customary habit – and it is very unlikely that if he made the video under duress that any captors would have allowed his message to continue the struggle for democratic reform to be broadcast.
Evan is in South Africa.
In his video, Evan Mawarire looks very tired and he said he is tired. He is also suffering from the flu and battling with the cold weather in South Arica. Zimbabwe has a mild climate and South African winters can be bitter for those not used to the colder climate. Evan went on to explain that he is amongst friends and fellow Christians.
Urges non-violence.
Pastor Evan reiterated that he is overcome with gratefulness and thanks to the people who are praying for him and who are standing by his #ThisFlag message. Once again he told the people to engage in peaceful protest and not to give into the temptations of violence. It has always been his message that change must come through peaceful protest and that violence is not the way forward. At this time he is promising to get more video messages out, and it will not be long before he gets a replacement mobile phone so he can post regular updates.
No political party ambitions.
The editor of state-run news, Mr. Manheru of The Herald speculated in his column that Evan Mawarire is not far off starting his own political party, but there is no indication from him that this is the case.
A poll run on twitter under the #ThisFlag hashtag came out in support of him not starting a political party, and the leaders of the Quiet Revolution have reiterated over and over that their movement is not about political parties or personalities, and that demands for change must come from all citizens in Zimbabwe.