Zimbabwe: #ThisFlag Pastor Evan walks free after supporters pray for miracle
Rate this title
Surrounded by riot Police #ThisFlag supporters fell to their knees and prayed away charges of treason.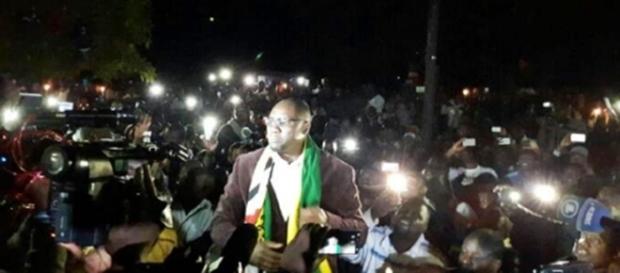 The thousands of peaceful protesters of all races who gathered at the Magistrates courts in Harare, Zimbabwe yesterday in support of their Pastor – Evan Mawarire were shocked when the State changed the charges against him from "inciting violence" to attempting to "overthrow a constitutional government."  Amid throngs of additional riot Police, who came to bolster the already large contingent at the court, they started to pray.
Touching scene as thousands kneel and pray.
It was a touching scene – riot Police vs. thousands of people kneeling in the dirt and lifting their supplications to God as they prayed for a miracle. They prayed that the magistrate would throw out the treasonous charges.
They prayed for the defence team representing Evan in court. They prayed for their country. As legal arguments went on and on, into the night, they sang hymns and prayed whilst their leaders called for peace, telling them not to react to the Police goading and to focus on prayer. "It's not over yet – wait and pray," they said.  Many were beginning to get restive over the delays and some of them had already been there for twelve hours.
Praying for sanity to prevail.
Reports were trickling from inside the crowded court that Evan had been denied bail and that the case would go the High court – which would effectively mean that their pastor who had posted up YouTube videos urging peaceful change would become a political prisoner. The prison truck had arrived and there were tears on the faces of many in the crowd outside.
They prayed and prayed for wisdom, for sanity to prevail and for God to stand by their pastor.
Riot Police leave the court.
Suddenly there was a change in the atmosphere. The riot Police climbed into their trucks and went away. The magistrate revealed that he was going to free Evan as the arrest had been unlawful and the arbitrary changing of the charges was a violation of the justice system. The prosecution did not even have a warn and caution statement to hand to him to read. Pastor Mawarire was free to leave the court. Inside the court songs of praise rang out. Outside a jubilant crowd sang their praises. And then – suddenly their beloved pastor was walking among them – they had their miracle they had been praying for.
#FreePastorEvan more victory celebrations after freedom victory #ThisFlag @DeproseM @SirNige @DavidTakawira pic.twitter.com/I86RFoOJFE

— Jabusile Shumba (@JabuShumba) July 13, 2016
The magistrate.
Mindful that it takes a lot of courage to stand up to the demands of a harsh regime, many of them immediately started to pray for the protection and safe-keeping of the Magistrate who heard the case.
The Government has repeatedly said that the movement for change which has come to be called the "Quiet Revolution" is backed by western nations or white South Africans, terming this "3rd Force" as the reason for widespread stay-aways and protests over the past weeks. The jubilant crowd were a-buzz, saying that "there is a 3rd Force and he is called Jehovah!"
Magistrate Vakayi Chikwekwe gives us hope for a better Zimbabwe #heromagistrate #FreePastorEvan #freedpastorevan

— beauty's daughter (@BeautysDaughter) July 13, 2016
Evan anticipated his arrest.
Followers urged their leaders to continue pushing for democratic rights after this victory. There is no word at this time as to where Pastor Evan had gone to. In Zimbabwe it is not unknown for the President of the country to over-ride the ruling of the court and his release from the court does necessarily mean that he is out of danger. Pastor Evan had anticipated his arrest and as soon as he was taken into custody his "farewell speech" was released on social media.
#Zimbabwe #ThisFlag Pastor Evan Mawarire #treason death penalty charge unconstitutional ... https://t.co/MgSynnR7t4 pic.twitter.com/FRLiUlXNOV

— CICA - Crime Intel (@CICArsa) July 14, 2016
Not without sceptical humour.
As the Zimbabwe Flag has been used a symbol of change, some of the supporters are quipping that potentially the national flag might become banned in its own country. Anything is possible in Zimbabwe right now.
Click to read more
and watch the video
or