Zimbabwe: #ThisFlag Pastor Evan Mawarire – scepticism he applied for asylum in the USA
Facebook post by Evan Mawarire reassuring his followers that he is safely outside the country is being questioned by his supporters.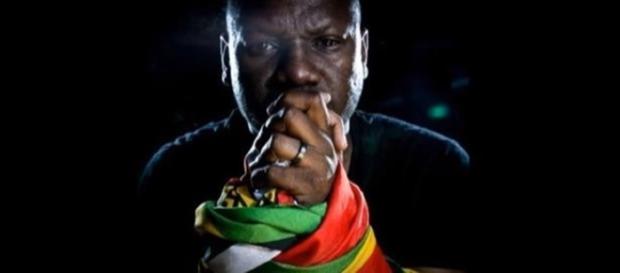 It was reported by Nehanda Radio that they have confirmed that Evan Mawarire, the Pastor who started the ThisFlag protest movement in Zimbabwe, has left Zimbabwe.  They have claimed that a source has confirmed that Mawarire is now in South Africa, where he is recuperating whilst he applies to the USA for asylum
Facebook post.
In a Facebook post by Evan, a long message indicates that he is well, and that he has been unable to communicate as the Police in Zimbabwe seized his phone when he was arrested last week. There is no mention that he is applying for asylum. In the past he has communicated by video – and the Facebook message is now being brought into question especially as he was able to make a thank you video after his charges of treason were dismissed in Harare on Thursday 14th July.
People question post authenticity.
The people following the #This Flag movement for peaceful change in Zimbabwe are questioning the message for a number of reasons. One of them is that he has always spoken or written in both English and the Shona language. Another reaon is that the message says that people should also share the message on whatsapp, and it was widely believed that State Security Police had compromised his whatsapp account.
Fears of abduction.
Pastor Evan is known to be very close to his family, is a man of huge faith in his God and is a courageous person with very high principles. It is incredulous that he should leave his family behind if he really has gone into exile. The underlying fear is that he may have been abducted by State Security and may have suffered the same fate as Itai Dzamara who disappeared without trace sixteen months ago.
That is a worst case scenario – others feel that his account has just been compromised by State Police and that he may indeed be safe somewhere. They are calling on Evan to make another video so they can see him actually speak. Of course, if he is in custody somewhere – it would be easy enough for someone to make him speak into a camera.
No word by USA he applied for asylum.
At this time, nobody from the USA has mentioned anything about him seeking asylum in that country. Another concern is that when he ends his Facebook post he says he is "fed up." This has never been his cry to the people. He has always said that the people "are tired." Many followers are "smelling a rat" and the calls are increasing for him to make a video. How hard can it be? – As one commentator pointed out, it would have taken him longer to write a lengthy post than to just say a few words to a camera.
Where is pastor guys, I really don't understand the rumors anymore, no clips? #Twimbos #freepastorevans #ThisFlag #Tajamuka #FreePastorEvan

— theresa makonese (@MakoneseTheresa) July 15, 2016
Trust in God.
People are very worried, and if, indeed, this has been staged by the Mugabe Government, the Police force, State Security or even just the ruling party ZANU (PF), the last thing the movement wants is for people to lose faith.
Some are urging the people to just trust that Evan is in the hands of God, rather than ponder his fate and lose hope. They point out that despondency and fear over Pastor Evan might impact on the citizen movement, which is exactly what the regime wants to see.
Reports Police were searching for him.
A new hashtag has now appeared on twitter asking #WhereIsPastorEvan – but the main discussion about his whereabouts seems to be on Facebook or under the twitter hashtags #ThisFlag and #FreePastorEvan. Concerns started mounting when this tweet below started circulating on Thursday.
#thisflag #freePastorEvan #FreeZimbabwe l am Zimbabwe! You are Zimbawe Pastor Evan is Zimbabwe power to the people pic.twitter.com/vItHhZUzBy

— #PeoplesVoice (@zimacademia) July 14, 2016
Calls for a new video.
One commentator to the Facebook post has written "Well if Pastor's phone is in someone's hands then anything is possible. What the good Pastor has to do under these circumstances is to get another phone with different everything then post a live video showing legitimate time in the back ground and set the Masses minds at rest." 
All people are able to do at this time is to have faith in God and pray for their Pastor – wherever he might be. There are some tweeters who have been close to the Pastor from the beginning of his #ThisFlag journey who are reassuring their people that Pastor Evan really is safe.
Click to read more
and watch the video
or