Zimbabwe: #ThisFlag Pastor – Evan Mawarire grabbed by Criminal Investigation Police
Rate this title
Reports emerge that the Pastor urging peaceful change in Zimbabwe has been taken forcibly from his home by Police.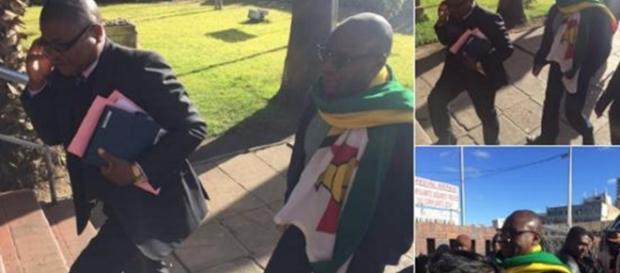 Pastor Evan Mawarire who is urging people to protest peacefully and stay away from work this coming Wednesday and Thursday in Zimbabwe anticipated that he might be abducted by State Security Agents (CIO). In a video just two days ago, he explained that he had managed to avoid abduction by armed gunmen. Yesterday he spoke again via video, urging people to stay away peacefully and encouraged them to hold non-violent and peaceful stay-aways in case he "goes absent."
Notice to appear for questioning.
In his video on the 10th July, he said that he had been served notice to appear before the Police to answer some questions. He publically agreed to this via another video.
Across the #ThisFlag Twitter hashtag, he repeatedly stated that he would voluntarily go to the Police and submit to their questioning. Nevertheless, it has now been reported via his Facebook supporters and is winging its way across Twitter that last night, he was forcibly taken by Police officials from his home in Harare.
I am now at CID Law and Order at Central Police. I'm going in healthy and strong. Pray for me! #ThisFlag pic.twitter.com/KiS901k8jn

— #ThisFlag (@ThisFlag1980) July 12, 2016
Social media news sources.
Zimbabwe Latest News Network reported today that Evan Mawarire was "abducted by Police at his house last night." The social media platforms are not usually regarded as reliable news sources, but the high trending #ThisFlag hashtag is one of the few means that movement for change activists have to get their news out to the world.  There are almost simultaneous reports being shared across Twitter that Mawarire will hand himself over for questioning today, 12 July and other reports indicate he has already been abducted by police from his home.
Disturbing.
Whichever is the truth will emerge in time, but for the time being, it is very disturbing to listen to his last known video, where he said that "we have broken no law, so I take it this is just routine questioning." This arrest or abduction, if it has taken place is disturbing because there is no need to forcibly take a man who has agreed to go for questioning.
Arrest anticipated.
In anticipation of his arrest he reminded his followers that even without him, the issues of the movement for change, now known as the Quiet Revolution, would "remain the same." Even in his absence, he explained that the citizens of Zimbabwe are trying to "break fear." Once again he spelled out the issues the movement has with their incumbent Government. These are corruption, timely payments for civil servants, a reduction in Police roadblock checkpoints, and to stop Police brutality. Another point is that they want the government to end the proposed bond note issue, and to lift all import bans on basic goods.
Many will be praying.
His last words were that he would give further feedback after his voluntary visit to the Police to answer questions, and he blessed his people. Zimbabwe is a very religious country. Almost everyone goes to church – even if it is just to pray for the downfall of their enemies from both sides of the political spectrum – and Pastor Evan, who has lead the call for change will have many praying for him today. In the past, activists like Itai Dzamara who have been labeled as "dissidents" have disappeared without a trace after abduction.
Click to read more
and watch the video
or