Zimbabwe police torture men, women and children in the street following #ThisFlag protest
Rate this title
Shocking videos of police brutality in Zimbabwe are emerging [video]: Viewer discretion advised.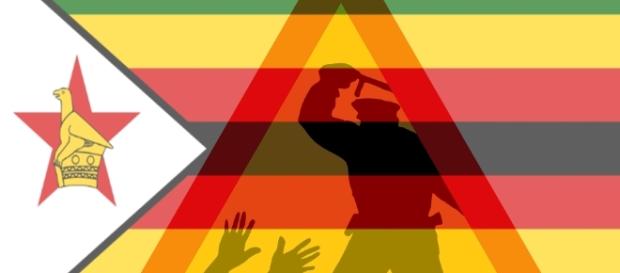 Following last week's stay-aways in Zimbabwe, and protests for change, many images of Police chasing, hunting down and arresting citizens have flooded the internet. The astonishing thing about the violence perpetrated by the Police force of the country is that whilst they engage in brutal behavior, The IMF is actually considering handing the Government that condones this type of treatment, some kind of a financial helping hand.
Brutal beatings and torture.
Young children, youths, mothers and the elderly were rounded up and lined up in sitting positions on the pavement. Not content with having arrested the people who were protesting, the Police set about assaulting them.
This appeared not to be applied minimum force to contain a crowd of violent criminals and is extremely perturbing given the young age of some of their victims. In the video, one can see a policeman holding a young distraught child as other Police beat his young mother. Physicians for Human Rights report that beating on the feet is recognized as a common form of torture.
Disturbing images in this video below. Viewer discretion advised:
@chimurengamusic @Wamagaisa Current situation in Zimbabwe- persecution of poverty stricken Zimbabweans by Mugabe pic.twitter.com/ekKR3uuwz4

— Frank Views (@FrankViewZ) July 9, 2016
Heavy handed reaction to protests.
The people of Zimbabwe are protesting against corruption in government, an import ban on goods that a lot of people rely on to sell to feed their families, the issue of bond notes that are feared to be worthless, and for the removal of the many police-checkpoint roadblocks in the country.
The reaction of the Police force has been heavy-handed. It has been reported by Bulawayo24 News that in the city of Bulawayo, a sixteen-month-old child suffocated to death after Police threw tear gas into a house where women and children were sheltering following last week's stay-aways. The Zimbabwe Standard reported that the toddler died after "Police fired teargas inside the flats in Makokoba to force residents out, where they were made to sing the national anthem and then severely beaten with baton sticks accused of staging an anti-government protest."
We mourn for the toddler killed by suffocation in Bulawayo by brutal police! #ThisFlag @Bulawayo24News https://t.co/AkyMyPlyQY

— #ThisFlag (@ThisFlag1980) July 9, 2016
Alleged 3rd force.
The movement for change which is operating under the #ThisFlag and #ShutdownZimbabwe2016 hashtags has repeatedly called for their President and his ministers to engage in dialogue to discuss the problems in the country and to address fiscal mismanagement.
The government reaction has been to ignore these calls and instead, they are looking for a 3rd force to blame for the situation. Last week it was reported that President Mugabe blamed the embassy staff of western nations for the protests, implying that they were paying the people to stay away. New reports published by Business Insider reveal that in a rally in Bindura Mr. Mugabe blamed the current economic situation of the country on sanctions against Zimbabwe. SABC reported that President Mugabe is now blaming white South Africans, saying they are fomenting trouble and warned his people to be "wary of the enemy."
US Sanctions.
The US Embassy in Zimbabwe has clarified via their Website that the sanctions by the US are targeted sanctions and only applied to 98 individuals and some 68 business or farms that are owned by those individuals. Sanctions of this type were first instituted in 2003 and have been updated from time to time. The Website explains that they "implemented the targeted sanctions program ..... as a result of the actions and policies of certain members of the Government of Zimbabwe ....(were) undermining democratic institutions and processes in Zimbabwe."
The #ThisFlag movement.
There have abductions by armed gunmen in the middle of the night, and some of those abducted activists have not been located. On 9th July it was reported by Pastor Evan Mawarire that an attempted abduction had been made against him and it appears that he is now in hiding. Evan Mawarire has long been calling for non-violent protest through the #ThisFlag hashtag and has been inviting the government to have some dialogue with the people.   
Click to read more
and watch the video
or