Zimbabwe: Delay tactics in court as This Flag Pastor Mawarire charged with serious offence
Thousands of supporters besieged court as they awaited the appearance of #ThisFlag Pastor at bail hearing.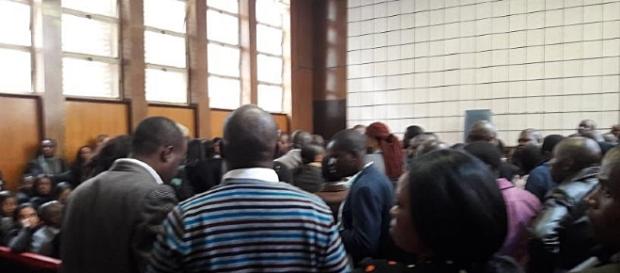 Pastor Evan Mawarire who has been calling for peaceful protest in Zimbabwe under the #ThisFlag hashtag was yesterday arrested and charged with Inciting Violence. His arrest came a day before the movement for change was set to stage another stay away. During very long delays many thousands of supporters gathered outside the court to pray and sing hymns and demand his release. The day's events are outlined below.
Water cannons.
Outside the Court in Harare, where Mawarire was set to appear at 8.30am it was reported that the Zimbabwe Government were taking no chances. There were three water cannon trucks standing ready. The people who arrived at the court to support Mawarire stood with their Zimbabwe Flags and some of them were praying.
One gave a speech saying that the movement is not about personalities and demanded that the Pastor be freed
Delayed start.
By 9.30am there was still no sign of the Pastor at the Court. But during the delays, more people started to arrive to stand in solidarity with their Pastor. Some people reported they were being photographed. As the crowd grew, to number thousands the numbers of riot police increased significantly.
But wani they have their helmets and buttons wani guys? #ThisFlag pic.twitter.com/jWoffhBtOa

— I am 3rd Force. (@theBarrister11) July 13, 2016
Police tried to disperse supporters.
The police, some of them armed with AK47s tried to disperse the people and it was announced  that the court case was delayed until 11.am but later one tweeter reported Evan had been taken back to prison because of the presence of supporters.
By 11.30 he was sneaked into a back entrance of the court and supporters rushed in. The court was packed to standing room only and Police had to bar the doors. Those locked out sang hymns and waved their flags. Police then cleared the court and announced it would be held in a bigger room.
Cops brandishing Ak47s ....at a BAIL HEARING😂 #ThisFlag

— I am 3rd Force. (@theBarrister11) July 13, 2016
Over a hundred human rights lawyers reportedly turned up to witness the case. There were delays as 50 of them were volunteering to represent Evan. It was reported that a prosecutor or policeman had left his affidavit at home, so all was on hold again. During the delays more supporters arrived and vowed they would not leave until the case was heard, describing it as "delaying tactics".
100 Lawyers turned up in court to offer their services for free to Pastor Mawarire who is appearing in court today pic.twitter.com/Vk9GhjvUNQ

— EZRA SIBANDA (@EZRATSHISA) July 13, 2016
New charges.
When court finally began after lunch it was reported that Pastor Evan's charges have been changed and he will be charged under Section 22 (2) of the Criminal Law (Codification & Reform) Act for subverting a constitutional goverment, according Zimbabwe Lawyers for Human Rights.
This was sprung on Evan's defense with no prior warning and seemed to account for all the delays. This is a much stronger charge than incitement to violence - and is tantamount to treason. It can carry a sentence of up to 20 years without the option of a fine. Such a case could be heard in the High Court. More riot Police were deployed to the court at the same time as the announcement was made. The State prosector requested any further hearings be held "in Camera." 
In effect this has happened:
We must now describe #PastorEvan for what he has truly become: a political detainee. #PastorEvanPoliticalDetainee #FreePastorEvan

— Alex T Magaisa (@Wamagaisa) July 13, 2016
As the new charge is of high severity, the magistrates court is not able to issue any bail as the new charges are outside of their jurisdiction.
A man of peace.
Following Evan Mawarire's arrest yesterday Police conducted searches at his home, his office and in his Church – apparently looking for a helmet and a baton that were "stolen" during protests last Wednesday. The supporters of the call for change were angry as they point out that Evan Mawarire continuously called for peaceful protest and never incited violence in any of his YouTube videos.
Click to read more
and watch the video
or