Uganda enters South Sudan to rescue trapped citizens
The Ugandan convoy crossed into South Sudan today to try rescue Ugandans and persons of other nationalities trapped in the volatile country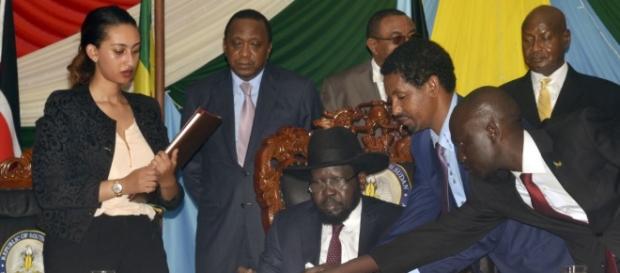 The Ugandan military on Thursday began rescuing Ugandan citizens trapped in neighboring South Sudan that has been engulfed in conflict for the past couple of days. Fifty tracks escorted by armoured vehicles crossed into South Sudan and they expect to rescue an estimated 3000 Ugandans in the next few days.
They will not only rescue Ugandans
According to Ugandan Brigadier chief Leopold Kyanda, the army was not only planning on rescuing Ugandans but also foreign nationals who may want to leave.
"We plan to go to Juba to extract 3,000 Ugandans stranded by fighting, but that number may grow as we will evacuate anyone who wants to leave of any nationality," Kiyanda said. "There may even be some South Sudanese who want to leave." He added.
Ugandan troops will not leave South Sudan
Ugandan forces first crossed over to South Sudan in 2013, to help in evacuations following the outbreak of the civil war. The Ugandan forces then stayed to help president Salva Kiir in the South Sudanese capital Juba. The forces had withdrawn from the capital after the signing of the peace agreement and are expected to stay to focus more on the evacuations. However, a Ugandan official said the forces would have to extend their stay indefinitely should the fighting continue.
According to Ofwono Opondo, the Ugandan government spokesperson, their short term mission in South Sudan could be complicated 
"It's a short-term mission but it can be complicated by new developments," he said. "You can expect us to stay" if fighting flared again and more people wanted to leave, he added. 
South Sudan civil war
South Sudan plunged into civil conflict in December 2013 after President Salva Kiir's forces clashed with forces allied to his former deputy Riek Machar.
This was after months of tension fuelled by Machar being sacked as the vice president on grounds that he was planning a Coup d'état.
This followed months of civil strife that forced over a quarter of the population to seek refuge in neighboring countries of Kenya and Uganda.
A peace agreement was signed in August 2015 and Riek Machar was reinstated as the vice president after going back to the capital Juba, last Apri. However, there have been fears that the country could slump back to civil war after Machar's and Kiir's forces clashed in Juba last week, leaving over 200 dead.
Click to read more
and watch the video
or