Ten soldiers dead after Al-Shabaab overran military base in Somalia
Ten Somali national army soldiers killed in a guerrilla-style attack on their base al Qaeda affiliated homegrown militant group Al-Shabaab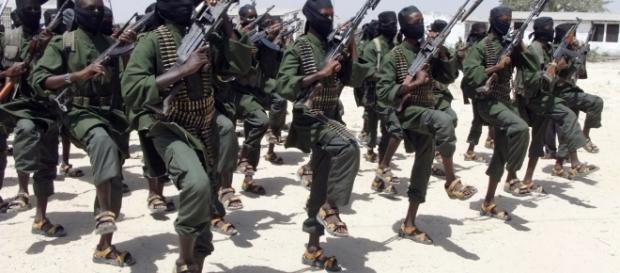 At least 10 soldiers died after Al-Shabaab militants overran their military base in Laanta Bur, Lower shabelle  region about 40 kilometers (25 miles) South West of the Somali capitall Mogadishu on Monday. The attack began when the militants rammed an explosive laden vehicle hence gaining access to the former prison.
Residents reported hearing a huge explosion at around 4am local time, and then heavy gunfire which lasted for several hours. The attack was confirmed by Major Ahmed Farah, who is based in the nearby military base of Afgooye. "Heavy exchange of gunfire continued for hours," Farah said, adding that at least 12 Al-Shabab fighters were killed. 
Al-Shabaab takes responsibility for the attack
The Al-Shabaab insurgents confirmed the attack through their military operations spokesperson Abdiasis Abu Musab, saying they killed over 30 soldiers.
Their claims are yet to be verified, but it is well known that the militants always quote a higher death toll while the millitary downplays the figures.
Insurgents grappling with weapons shortage
According to Ibrahim Najah, the governor of Lower Shabelle region, the militants made away with two military vehicles.The attack comes just a day after the president's office issued a statement saying that the army had destroyed a base used by the militants to store their military supplies. And just two days after the militants raided a police post in neighboring Kenya looting supplies and police uniform.
The militants have been relying on equipment looted during attacks ever since Kismayo port was retaken from them by the Kenya Defence forces, who are part of the African Union Mission In Somalia (AMISOM) forces.
Group stepped up attacks in recent times
The militants have stepped up the number of attacks in recent times in Somalia. Last month, an attack at the ambassador hotel in Mogadishu left 15 people – among them two legislators – killed. The militants have openly stated they intend to disrupt elections in the horn of Africa country which are stated for September. The Al-Shabaab is trying to battle the western backed government and the AU backed militants in order to impose their strict sharia laws in the country. The homegrown militants have pledged allegiance to the Al Qaeda militant group but recently several factions of the Al-Shabaab have claimed allegiance to the Islamic state.