Around 35 people, including foreigners, have been taken hostage by terrorists at a Spanish Restaurant, in Dhaka's diplomatic zone.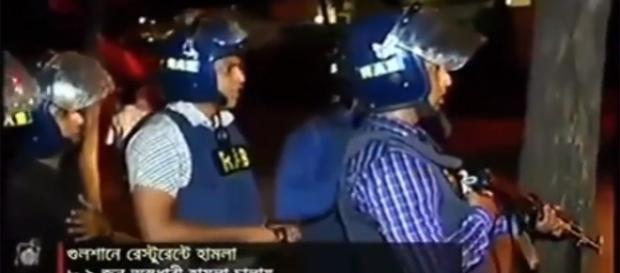 At least 8 to 9 terrorists have set off bombs and taken more than 35 people hostage, including foreigners, in Dhaka, the capital of Bangladesh. As per the eye witnesses, the militants entered the Spanish restaurant Holey Artisan Bakery in Dhaka's Gulshan area, a diplomatic zone around 9:20 p.m. (13:20 GMT) on Friday. They took customers and staff of the restaurant as hostages at gunpoint. 
A few staff and lucky customers escaped
Sumon Reza, a staff of the restaurant who, along with a few of his coworkers escaped narrowly, told the media that a large number of armed youth entered the restaurant and blasted several bombs creating panic among the customers.
Some customers were also lucky enough to flee the restaurant during the attack. The restaurant is frequented mostly by foreigners due to its proximity to the diplomatic zone. 
U.S. State Department issues alerts
The U.S. State Department has issued alerts for US citizens after the attack. It has asked US citizens to remain inside and monitor the local media report. John Kirby, a US State Department spokesman, said all the Americans working at the US mission in Bangladesh had been accounted for. He also called the situation 'fluid.'
.@statedeptspox Kirby provides update on apparent hostage situation in #Dhaka, #Bangladesh https://t.co/CgwWuU2aUl

— Department of State (@StateDept) July 1, 2016
Two policemen killed and 40 others injured
The huge police force has cordoned off the area. Benazir Ahmed, DG, elite anti-crime force Rapid Action Battalion (RAB) told reporters that security forces were operating to save the lives of the trapped people.
Though he said several foreigners are believed to be among the hostages, he was not able to ascertain the exact number of foreigners trapped inside. He told the reporter that a number of derailed youths have entered the restaurant and created havoc. He wanted to talk to them and resolve the issue peacefully. 
But, as per the media reports, gunfire is being exchanged between police forces and militants. Several injured policemen were seen being taken to the hospital. It is also reported by local media that 2 police personnel, including the officer-in-charge of the Banani Police Station, have been killed and 40 others injured by the militants in the exchange of fire. 
Hindu priest hacked to death
An elderly Hindu priest was killed at his temple in Jhenaidah district of Bangladesh Friday morning. In the recent months in a spate of violence, many secular writers, academics and members of minority communities such as Hindus, Buddhists, Christians, and Sufi Muslims have been killed by the miscreants. Though recently the government has arrested a huge number of criminals and extremists, still there is no respite for the minorities and the general public.     
The BBC reported Islamic State has claimed the responsibility for the attack on the Holey Artisan Bakery.
Click to read more
and watch the video
or