London woman dressed as witch lost Guinness record over photos
Rate this title
Guinness officials still 'respect and admire' her for money she raised for charity.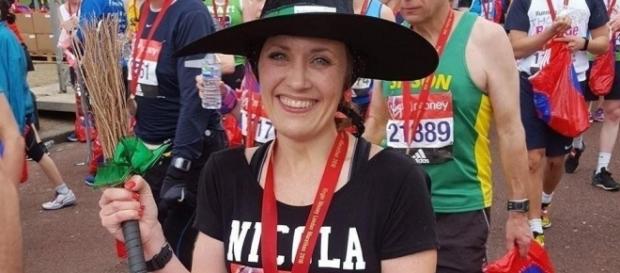 Nicola Nuttall, a woman of Lancashire, England, ran the London Marathon to help raise money for the Alzheimer's Society, but she also tried to make the event a bit more special, by trying to win the Guinness World Record for "Fastest Marathon Dressed as a Witch." Unfortunately, a technicality with the photos cost her the record-breaking title.
The Witch of the London Marathon.
As Guinness policy dictates, Nuttall was required to send a photo of her witch costume to the Guinness judges for review before she actually ran in the marathon, in order to be in consideration for the title. Originally showing a photo of a floor-length dress, Nuttall was initially given the proper validation to try out for the record title.
During the marathon itself, however, Nuttall wore a different, specifically somewhat smaller, costume, as can be seen below in a post on Nuttall's Twitter account. She managed, however, to complete the 26.2-mile marathon in three hours and 31 minutes.
Come on twitter I wasn't easy to miss! Any @londonmarathoners see a witch run on Sunday? need evidence for @GWR pic.twitter.com/PDX7AwOw0l

— Nicola Nuttall (@nicnut) April 28, 2016
Due to the change in costume, however, Guinness officials decided that Nuttall could not officially break the record, claiming that the new costume appeared too easy to walk in, specifically citing that the redesign possessed "slits cut in for more movement."
Guinness Officials Won't Relent.
Nuttall defended the redesign as still being appropriate for the record competition, claiming that the new costume possessed high slits in the dress, which would make it harder for her to run in it.
However, Guinness officials did not support the explanation, possibly as it went against their policy of still validating the costume beforehand. Guinness officials did, however, release a statement, claiming that they still "respect and admire" Nuttall, both for her attempt to try to break a record and for her raising money and promotion for charity.
Still, the story has something of a happy ending, as the attention Nuttall was able to conjure up with her story managed to also help her raise around the equivalent of $2,273 for the Alzheimer's Society.
Click to read more
and watch the video
or