Islamic preacher of comparative religions Dr Zakir Naik is under a microscope
Rate this title
Preacher is banned from entering the UK and many countries. He was the source of inspiration for the Dhaka terrorists.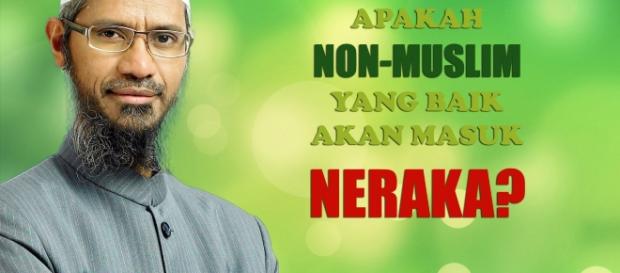 The Dr. Zakir Naik is not heard of much in America. Yet he is a Muslim preacher who is supposed to be an authority on comparative religions. He has a following of millions and is a source of inspiration to Muslim extremists the world over. Dr. Naik resides in Mumbai and also runs a TV Channel that is blacked out by many nations. The man himself is banned from entering the UK, Canada, and even Muslim countries like Indonesia. Dr. Naik is a qualified doctor but has given up his profession to devote full time to the propagation of the Islamic philosophy. Here is the catch; Naik is identified as a supporter of the Wahhabi Islamic thought (extremist) and by a subtle campaign conducted by lectures and meetings denigrates all other religions.
Some time back he had even justified the actions of Osama Bin Laden.
The following of Dr. Naik
Most Muslims all over the world listen to Dr. Naik. The man is extremely intelligent and obviously has done his homework. He has also studied the scriptures of the Christians, Hindus, and Jews and uses his knowledge in lectures to extoll that Islam is the best religion. He goes on to denigrate the Christian and Hindu religions by bringing out the lacunas in them compared to Islam. He also justifies plural wives in Islam and recommends it for the USA as he states there are more women than men in the USA. There are more than a thousand of his videos on YouTube. His thoughts are bizarre and his justification of the Wahhabi concept and Sharia is done intelligently. Millions of Muslims are impressed by him and his teachings.
Many of the terrorists follow Dr. Naik and even the Bangladesh terrorists were his followers. Dr. Naik as I have said is intelligent and conducts his interviews and mass meetings only in English. No Arabic or Urdu for him as he creates an image of a rational man. But after listening to him for some length of time most Muslims are swayed by his theories and feel it justified to spread Islam by terror through Jihad. In fact, his influence on the terrorist movement in SE Asia is quite a lot
The man is now being probed
Dr. Naik had started his lectures and meetings nearly a decade back, but the authorities in India did not take him seriously. Even the USA was not concerned about him. Now a decade later it has come to light that many of the educated Muslims are deeply influenced by him. They feel what he says is the gospel truth and and become soldiers of Islam to spread the Wahhabi concept of Islam. I may mention that Naik is a Sunni and his comments also target the Shia and other Muslim minorities. The Indian government has woken up and have been keeping an eye of Dr. Naik and his teachings, and his lectures are being studied.
Click to read more
and watch the video
or