INS Viraat of the Indian navy makes its last voyage after 68 years for de-commissioning
The oldest serving warship in the world the aircraft carrier sails to Kochi to be retired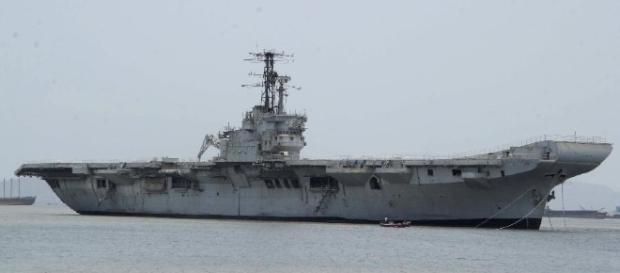 The Indian navy is the only navy in the world apart from the USA  that operates two aircraft carriers in the Indian Ocean.One of the aircraft carriers is INS Viraat which was acquired by the Indian Navy in 1987 from the Royal Navy. The aircraft carrier was commissioned in 1953. It is the last British-built warship with the Indian fleet and now the Indian Navy will not have a single warship of British origin. In 1947 when India became free all the warships were of British origin. The warship had joined the Indian navy after an extensive refit program and operated with Sea Harriers. 
The navy took the decision to retire the Viraat after the induction of the Russian-built Vikramaditya as the flagship.
In addition, an Indian-built aircraft carrier is also likely to sail by next year.
INS Viraat
The Viraat was a Centaur class carrier and compared to the larger modern aircraft carriers can be termed small.  The Viraat had been running for nearly 60 years and this makes it the oldest serving warship in the world. Repairs and maintenance were taking a heavy toll and the navy decided to retire the ship by the end of this year. As the ship left the Goa port it was given a ceremonial send-off with a parade and a flypast.
As India did not fight any naval battle during this period, the Viraat was used mainly  for surveillance and showing the Indian flag. The Viraat as HMS Hermes with the Royal Navy took part in the Falkland war. The ship was escorted out of the harbor on its last voyage with many smaller warships lining the route to the sea.
The future
The Viraat for long was the sole aircraft carrier in the Indian fleet. It was also the flagship till INS Vikramaditya joined the fleet. The Viraat is a conventionally powered carrier, but it carried a punch with Sea Harriers. The Sea Harriers have also been phased out and hence the Viraat had no aircraft to operate as the Russian planes were unsuitable for operation from its deck. This was also a factor in the Navy's decision to phase out the warship. The de-commissioning of the Viraat brings to an end the Indian Navy's association with the Royal Navy. 
Click to read more
and watch the video
or