Fake bomb threat by French woman at Geneva airport over husband's affair
Rate this title
They say hell hath no fury like a woman scorned, but one French woman is now heading to prison for her rage.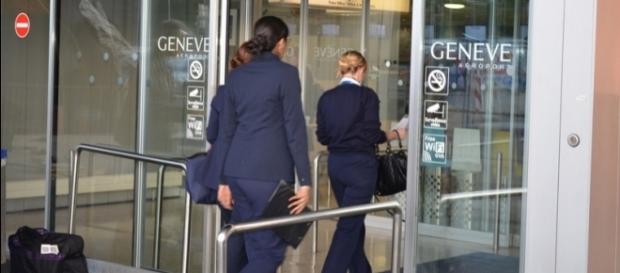 A woman in Annecy, France caused a huge security operation at Geneva airport in Switzerland by phoning in a fake bomb threat and will now head behind bars for three months. As reported by the Local, a 41-year-old mother of four children telephoned the Swiss customs office Tuesday night to warn them that a woman would be carrying a bomb into the Geneva airport on Wednesday.
Geneva immediately on alert over fake bomb threat
In these days of ISIS terrorist attacks in Europe, her call was obviously taken seriously by the Geneva police, who immediately launched a massive security operation at the airport. As each passenger and vehicle entering the airport was thoroughly checked, the queues ended up being long and things moved slowly.
Delays were caused and tempers were short as the checks continued throughout the day.
Caller with fake bomb threat was tracked to Annecy in France
The police eventually traced the woman's call to a residence in Annecy, France, where the woman finally admitted she had made up the bomb threat in revenge against her husband's mistress, who was catching a plane home from the Geneva airport on Wednesday.
The Tribute de Genève attended the court proceedings in Annecy on Thursday and said the woman had admitted she hadn't thought of the consequences of her actions when making the false bomb threat. She reportedly said her only aim was to cause problems for her husband's mistress and that the whole thing was purely out of revenge.
Her lawyer represented the woman in court as a wronged woman who had been married for 22 years and was the mother of four children.
However, Eric Maillaud, the public prosecutor in Annecy, wasn't sympathetic. Maillaud pointed out that she had caused a "thunderclap" with her actions and that the result of her false bomb scare had cost many hundreds of thousands of euros. He also stated that the phone call had led to an unnecessary police investigation and had caused 13,000 people who were at the airport that day endless worry.
Six month sentence for fake bomb threat
The woman was reportedly handed a six month sentence for her Crime, of which she will have to serve three. Reportedly her husband and two of their children attended the court hearing. Whether the mistress arrived home on time is unknown.
Click to read more
and watch the video
or